Police in Liverpool are investigating after a teenage motorbike passenger was shot in the head on a residential street on 7 October. The 17-year-old boy remains in a critical condition.
Merseyside police officers were initially called to Lyme Cross Road, Huyton, at 9.40pm after reports a motorbike passenger had fallen and suffered a head injury. A hospital scan later revealed that he had been shot in the head.
The driver of the motorbike did not stop. Police are working to establish the exact details of the boy's death. He has been named locally as James Meadows.
"I know the lad in hospital. He is a nice little lad and not into all that," a woman living next to the incident scene told the Liverpool Echo.
"My daughter said she heard screeching of tyres before it but you get used to that around here as there is a lot of scrambler bikes," she added.
Police are going door to door and analysing CCTV footage to try to determine last night's chain of events. Several roads have been cordoned off in the surrounding area.
"I would urge anyone who was in the area of Lyme Cross Road at around 9.30pm last night who may have seen the motorbike travelling at speed to contact us," said Detective Chief Inspector Bev Hyland.
"The rider of the bike left the scene and I would ask them, or anyone who knows them, to contact us as a matter of urgency as they may have information which is vital to our investigation."
There has been a sharp rise in gun crime in Liverpool with 11 separate shootings in the month of June alone. The latest government figures for firearms offences (including gun possession) found there had been 151 on Merseyside in 2015/16, up 7% on the year before.
"Criminals involved in gun crime have no regard for anyone else and I would urge the local community to come together to help us take a stand against the use of firearms and violence on our streets and report anything they saw or heard to us so we can take action," Hyland said.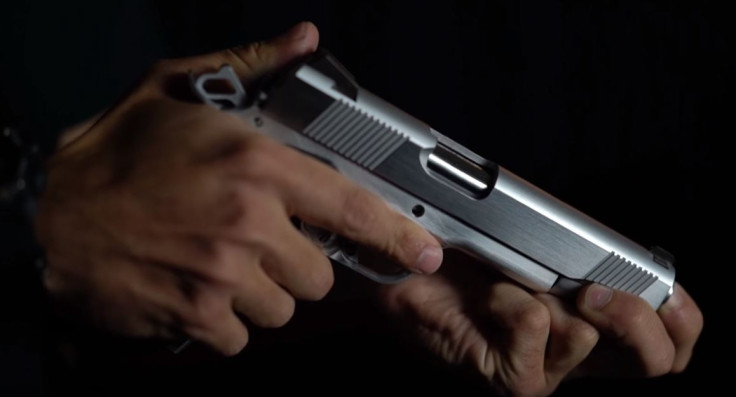 Another Lyme Cross Road resident told the Liverpool Echo: "We have a big problem with scrambler bikes in this area. They are always flying up and down here. I was coming back from the bingo last night and I was going to take my dog for a walk
"But there was lots of police already blocking the area. My neighbour said a scrambler had smashed into a car and knocked two people off."
Hyland said: "I know that incidents such as this do cause concern but I want to reassure the community that we are doing everything we can to find those responsible and bring them to justice.
"Anyone who saw or heard anything suspicious is asked to call detectives on 0800 230 0600 or the Crimestoppers line, anonymously, on 0800 555 111."