UPDATE at 6.20pm on 7 October: The Metropolitan Polce say the incident is a road traffic investigation and not terrorist-related. Enquiries are ongoing.
IBTimes UK covered the incident in real time based on Press Association reporting and interviews broadcast on LBC radio .
ORIGINAL STORY: The Metropolitan Police have detained a man after a car, believed to be a registered taxi, ploughed into crowds outside the Natural History Museum on Exhibition Road in London. A boy as young as eight was said to be among the injured.
Police have yet to determine the assailant's motives – they say they are "keeping an open mind". The London Ambulance Service said they treated 11 patients, nine of whom were taken to hospital, mostly suffering from "leg and head injuries" not be believed to be life threatening or life changing.
Eyewitness Dean told LBC: "If it wasn't deliberate, I don't know how it kept going. It hit one person out side then started running. I was with my daughter in a pram.
"It hit a boulder outside the National History Museum then veered back out, so unless the person lost control I don't see how it could be anything but deliberate."
At 2.20pm on 7 October, a black Toyota Prius – believed to be a registered taxi – crashed into a number of people outside the National History Museum. The carnage appears to have come to an end when the Toyota crashed into an oncoming vehicle.
Witnesses said the driver was pinned to the ground by brave members of the public and security guards from the museum before police arrived and detained him.
"He looked really proud of himself. He was laughing," one told Associated Press.
"We saw a man, a black guy, being held down by civilians. He was wearing blue jeans and had his arm twisted behind his back," another eywitness, Katie, told LBC. Dramatic pictures show a man being restrained with blood pouring from his mouth.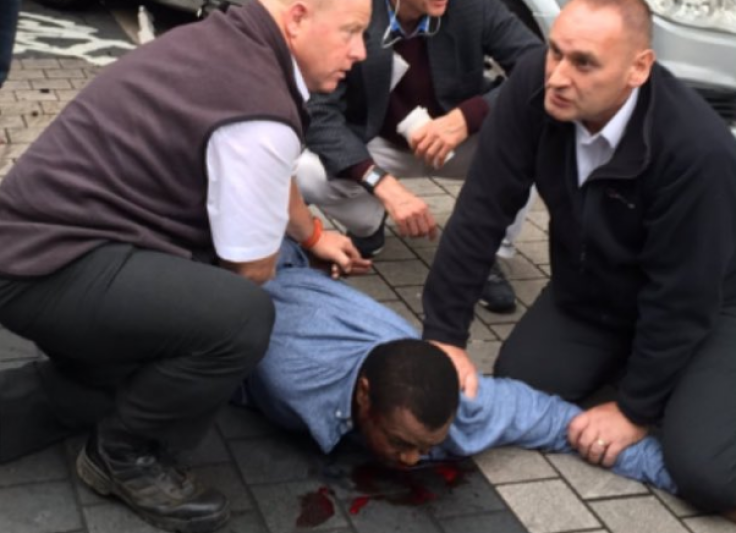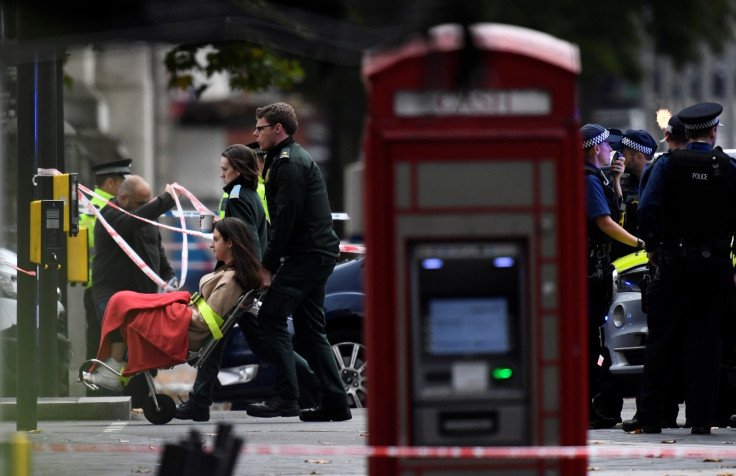 Exhibition Road is a semi-pedestrianised area, with no street furniture or obstacles separating the busy crowds from the traffic. Many vulnerable parts of central London have been fortified to prevent car attacks after Khalid Masood's assault on Westminster Bridge in March.
Katie said she was walking down Exhibition Road when she heard "a really big bang".
"People were running," she continued. "They were confused and very frightened. There were people on the road. We weren't sure what had happened so we went to look and saw a badly smashed car that had driven into a tourist information point.
"We saw at least two people lying down, one of them was a boy aged around eight or nine. There were already people down there helping.
"The ambulances took about ten minutes to arrive, all the officials from the museum were trying to help but a lot of people were standing around very scared."
Katie added that other cars collided with the Toyata, which she believed had been responsible for the incident. The Natural History Museum and the nearby Science Museum were both evacuated and remained closed.
London Mayor Sadiq Kahn said he was in "close contact with Assistant Metropolitan Police Commission Mark Rowley [who is also counter-terror chief] and our emergence services". Police are still urging people to avoid the area.
Labour leader Jeremy Corbyn tweeted: "Very concerning reports from outside the Natural History Museum. My thoughts are with those injured and our thanks to the emergency services."
There is now a large emergency presence on road, which was cordoned off at around 3pm. Nearby London Underground stations Sloane Square and South Kensington were evacuated. Unconfirmed reports suggested Sloane Square had since been reopened.
Patrick Greenfield, a freelance journalist at the cordon, wrote on Twitter: "Armed police on the scene. People seen being seen being put into ambulances. Avoid the area. Very calm and professional response from the emergency services."
This is a breaking news incident. We will be bringing you all the very latest updates, pictures and video on this breaking news story as it develops.
The Metropolitan Police's initial statement in full, read: "Police were called at 1421 on Saturday, 7 October to reports of a collision in Exhibition Road, South Kensington. It is believed that a number of pedestrians have been injured.
"Officers are on scene, and the London Ambulance Service have been called. A man (no further deets) has been detained at the scene.
"Enquiries to establish the circumstances and motive are underway. If you have any information about this incident, please call 101."
"It is not being treated as a terrorist incident at this stage while we establish what has happened."