Guardians of the Galaxy: The Telltale Series
Episode 1 - Tangled Up In Blue
Platforms: PS4 (tested), Xbox One, PC, iOS, Android
Developer: Telltale Games
Publisher: Telltale Games
Release Date: Out now
Electric Light Orchestra - Livin' Thing
Buzzcocks - Radio Nine
Hall & Oates - You Make My Dreams Come True
When Telltale Games tackled the Batman mythos last year the first episode of that series was mocked for hammering home the murder of Bruce Wayne's parents. It's an origin everyone knows, and was seen as a signal that Telltale's series would tell a familiar Batman story.
When Guardians of the Galaxy: The Telltale Series starts, it's with a similar sense of the familiar. Everything from the characters to their designs, the settings and the tone evoke James Gunn's wildly popular movie.
By the end of Telltale's Batman series, the developer had confidently toyed with the established Batman lore, recasting Bruce's parents and in turn giving this Dark Knight good reason to question what drives him to fight crime. It was bold and different, far removed from the current iterations of Batman on the big screen and printed page.
Like Telltale's DC Comics series, its first outing in the Marvel Comics any pang of familiarity largely subsides by the time the credits roll.
Batman's story is embedded in the collective pop culture consciousness, and so it takes fresh ideas to stand out. This isn't quite the case with Guardians, but episode one of Telltale's series – called Tangles Up In Blue, does seem to be playing it too safe.
Gunn's 2014 film took the Guardians – a team that wasn't all that popular in Marvel's comic book world prior to the film's release – and redefined them. The film's script and some great casting completed that about-turn for a series that nobody expected to be so popular, but which is now considered to be a crucial part of Marvel's big screen efforts.
An important part of Guardians' success three years ago was its soundtrack, a fantastically well-chosen collection of licensed pop songs from the 70s and 80s that played a part in the film's story as well. They comprised protagonist Peter Quill's "Awesome Mix" – a mixtape he received from his dying mother shortly before he was taken away from Earth.
Within a few seconds of Tangled Up In Blue starting, a similar tape is seen, called "Rad Mix", and that's just the start. The cast also, largely, plays it safe. Scott Porter tries to capture Chris Pratt's easy charm as Star-Lord, Brandon Paul Eells imitates Dave Bautista as Drax and Nolan North does his best impression of Bradley Cooper as Rocket.
Groot is Groot.
Only Gamora differs from Zoe Saldana's take on the character. Emily O'Brien's version is more open and warm but – much like the big screen version – she isn't the most compelling of characters.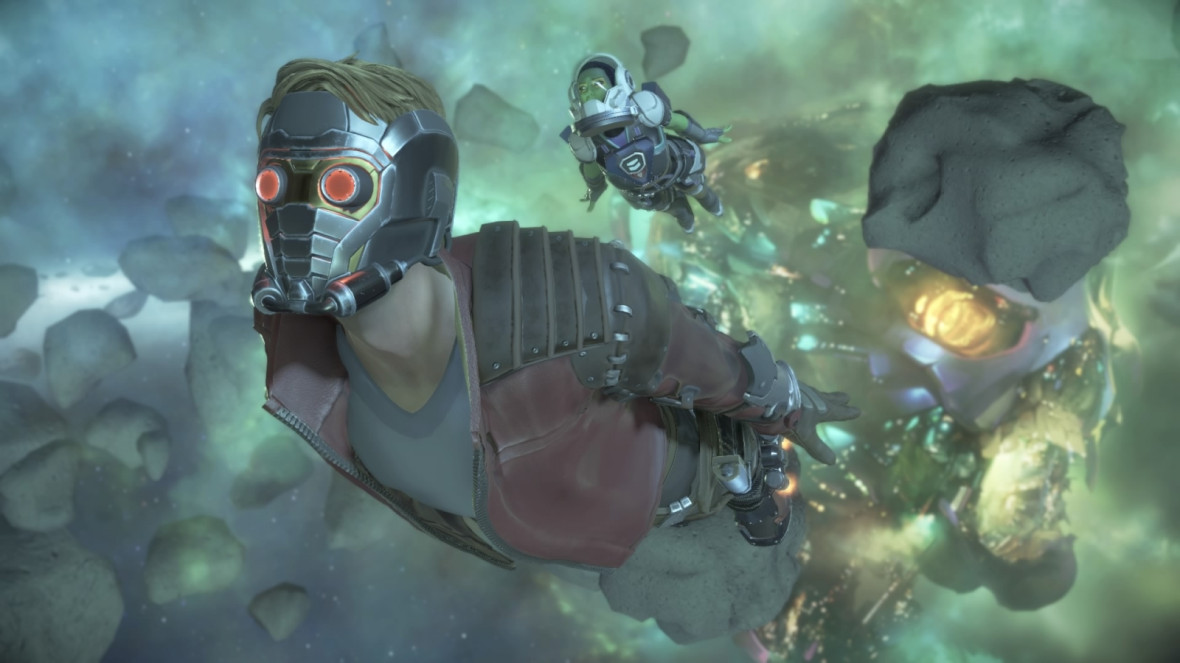 Throughout episode one players will encounter other familiar faces: Thanos, the mad titan, Yondu, Peter's adopted father figure, and Nebula, the daughter by blood of Thanos, Gamora's abusive foster father.
Each evokes their big screen counterpart. Even the settings do, from the mining colony on Knowhere (the hollowed-out skull of a gargantuan ancient being) to a Kree warship and its captain: Hala the Accuser here in place of Ronan the Accuser in the film. It's all far too familiar in this way, which is perhaps understandable for premiere episode, so it is a relief that the game's story sets up some interesting ideas to pursue over the remaining four instalments.
Without heavy spoilers, it seems the plot will tackle what becomes of the Guardians after they complete a significant mission, which is also the most important to them as well. What might end up tearing them apart is the series' Macguffin – the "Eternity Forge" – an item of immense power. Over the course of Tangled Up In Blue, Telltale generates just enough intrigue to entice players to see where this story goes, helped by a strong ending.
My problems with Telltale games in the past has been their general performance and their bland direction. The studio popularised a new, modern form of the classic point-and-click adventure back with its first series of The Walking Dead, one that makes use of small areas to walk around, dialogue trees, quick-time events (QTEs) and choices that impact the narrative.
The formula clearly works and I'm certainly a fan, but I've often been left cold by the distinct lack of visual flair involved in the cut scenes that comprise the majority of the games. If a player isn't going to actively influence a game for the majority of its run-time, the way its scenes are framed and put together should certainly be engaging.
The bland, often static nature of previous games has put me off before, but Guardians of the Galaxy is a marked improvement. The opening stretch of the game, as the Guardians move to take on Thanos, has some of that absent flair. In terms of performance, Telltale has also improved over recent outings but it's still far from perfect. There's still a little stiltedness between some actions, and the lip-syncing and animations are often off-putting clunky.
Our verdict
Telltale's Guardians of the Galaxy: Episode 1
Guardians of the Galaxy: The Telltale Series gets off to a good start with a story that intrigues about a set of characters all too familiar. How closely the game looks to the recent movie and upcoming sequel for its tone, characters and design is to some degree understandable, but also seems like a missed opportunity – at least this early on. As ever with a Telltale series there's potential going forward, but if the Guardians are to strike out on their own in video games, they need to play something new. At the moment, they're a bit like a covers band.