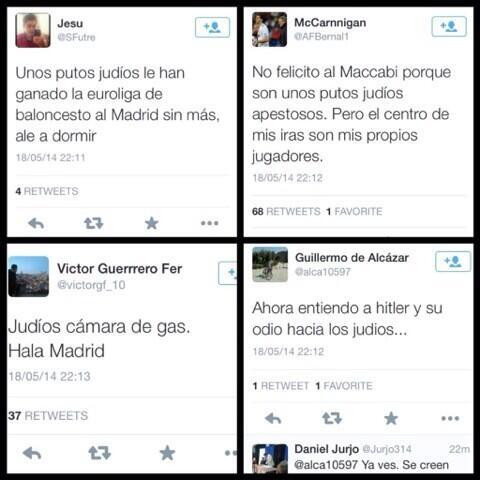 Catalonia's Jewish organisations have taken legal action over nearly 18,000 anti-Semitic messages that were posted on Twitter after the Israeli basketball team Maccabi Tel Aviv beat Real Madrid to win the Euroleague title.
The Jewish Community of Barcelona, or Bet Shalom, is planning to file a complaint with the state attorney which will be submitted to the City of Barcelona.
Among those filing the complaint will be the Jewish Atid Community of Catalonia; the Catalan Association of Friends of Israel; and the Catalan Association Against Anti-Semitism.
The complaint will also include tweets from five Twitter users along with their full names.
"We have identified five people," explained the president of Bet Shalom, Jai Anguita. "The majority of the remainder of the messages were anonymous."
Anguita argued that he is a "firm defender of freedom of expression, but there must be a limit".
Among the anti-Semitic messages posted was "F***ng Jews. This didn't happen under Hitler", and "F*****g Jews...they should stick you all in an oven. F*****GB*****DS!"
The Twitter users adopted the #putosjudios (fuckingJews) in the offensive messages.
Barcelona state attorney specialising in hate crimes and discrimination will have to decide whether to proceed with the investigation.