Tensions flare on Lesbos after migrants set fire to tents protesting 'inexcusable' living conditions
3,000 people are living in the refugee camp in "overcrowded, unhygienic and unsafe" conditions, say activists.
Tents have been razed to the ground at the Moria refugee camp on the island of Lesbos, Greece, after migrants clashed with riot police over living conditions on Monday (10 July).
The protest erupted when African migrants were told they were being deported. They began throwing stones and setting fire to surrounding tents.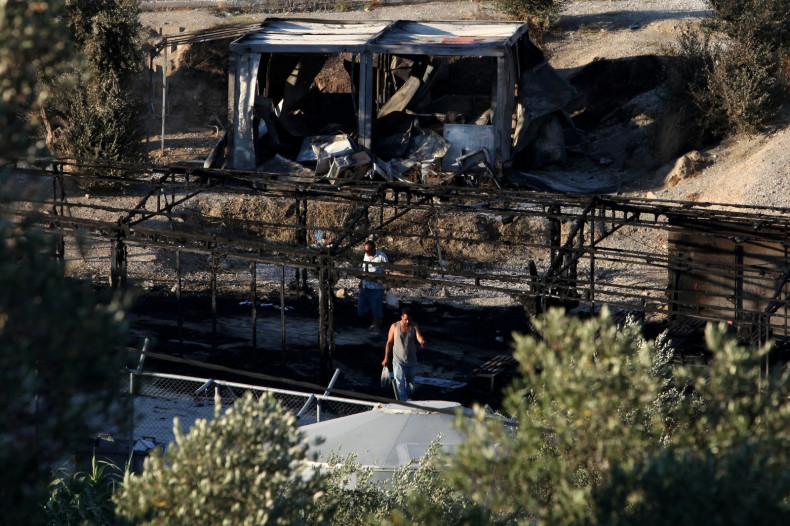 Flames engulfed several tents and container units and hundreds of refugees, mainly families with children, fled the camp. There were no immediate reports of injuries.
Tensions between ethnic groups flared as they blamed each other for the unrest.
One man told Sky News: "Africans make the problem, we don't want to live with them. They are putting all of us in danger. They are putting all of us in danger. Tomorrow they might kill me."
The living conditions in Moria have been described as "inexcusable" and "inhumane".
More than 3,000 people are living in "overcrowded, unsafe and unhygienic" conditions, according to Human Rights Watch.
A spokeswoman for Doctors without Borders told IBTimes UK that conditions on Lesbos have deteriorated dramatically since the start of June. She said there was a four-fold increase in the number of people arriving in June, 785, compared with April, 230, and that the healthcare provision had been drastically reduced in recent months, despite the concerning number of refugees suffering from mental health trauma.
A Doctors without Borders assessment of 154 people found that:
79% were suffering from severe mental health problems
A fifth of these people had been tortured before arriving in Greece
Over a third of people had developed Post-Traumatic Stress Disorder
"There is a very high level of suffering," Dr Declan Barry, a medical coordinator with Doctors without Borders, told the Irish Times. "That this is happening in a European country is inexcusable, but it is very easy to ignore, because it's contained to the Greek islands."
He said that the EU-Turkey deal, which aims to stem the flow of refugees into Europe, has left hundreds of people feeling helpless and trapped inside Moria.
"The hope that was propelling people forward is gone. They had a goal, but now that they can't move on, the trauma they experienced at home is surfacing," Barry said.
"Refugees have been ignored and mistreated on the Greek islands for far too long, many waiting for months without having their initial asylum interviews," the CEO of Help Refugees, Josie Naughton told IBTimes UK.
"Without reforms to the current asylum procedures, accelerated transfers of refugees to the mainland, and changes to Europe's 'out of sight, out of mind' approach to the refugee crisis, this situation won't improve and people's lives will continue to be put at risk," she said.