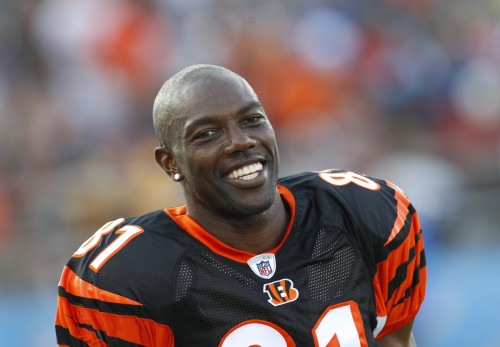 Terrell Owens' two-week old marriage is over after his wife, long-time friend Rachel Snider, accused the former NFL star of using her just to secure a mortgage on a $2 million home.
The 40-year-old wide receiver got hitched to Snider in a secret ceremony in Newhall California on 23 January but, just weeks after saying 'I do', the postal worker from Texas ended the marriage, claiming that Owens only wanted her for her good credit rating.
"I felt in love and now I feel betrayed and heartbroken," Snider told TMZ.
Snider also told the celebrity news website that she has already moved out of the couple's marital home and plans to file for divorce.
"I really valued his love and friendship for five years. Out of the love in my heart, I tried to help him. We had a secret relationship for five years and I married him for love," she added.
Owens who last played in the NFL in August 2012 for Seattle Seahawks, has endured financial problems in the past blowing $80 million he earned as a football star on child support payments, lavish spending and a number of bad investments in 2012.
"I hate myself for letting this happen," Owens said at the time. "I believed that they had my back when they said, 'You take care of the football, and we'll do the rest.' And in the end, they just basically stole from me."