A terrified mother has released CCTV footage allegedly showing a motorist trying to lure her three children to his van using doughnuts.
Rechelle Haigh, 26, posted the video on Facebook in a warning to other parents in her Greater Manchester neighbourhood.
The clip shows her three young children – Sadè, eight, Ameya, two, and step-daughter Roxie, six – playing on a trampoline together in their front garden.
A white van can then be seen pulling up alongside their home, in Partington, and the driver appears to start trying to speak to the youngsters.
He allegedly asks them if they want "to come get some doughnuts". He can be seen in the CCTV clip hanging a brown paper bag out the window.
Rather than approach the van, the quick-thinking children instead run into their house to their mother, with the youngest grabbed by her eldest sister.
The incident happened at around 2pm on Saturday (7 October). Police say they are treating it as "suspicious".
Haigh, a car sales owner, said she was "so proud" of her eldest daughter for stepping in and using her stranger danger training.
She told the Sun Online: "They were playing outside on the trampoline and I heard a screech, and it was someone doing an emergency stop. I was sat on my couch and I could hear someone shouting 'come on, quick girls, come get some doughnuts'.
"My daughter ran in saying 'mum, mum, quick'. I thought 'it's probably the neighbours being nice'.
"No mum, no really, come on mum'. She grabbed her sister and step-sister and brought them in.
"When I approached the man he looked petrified. I asked him what he wanted and he said 'oh, oh, oh, I was just offering the girls some doughnuts'."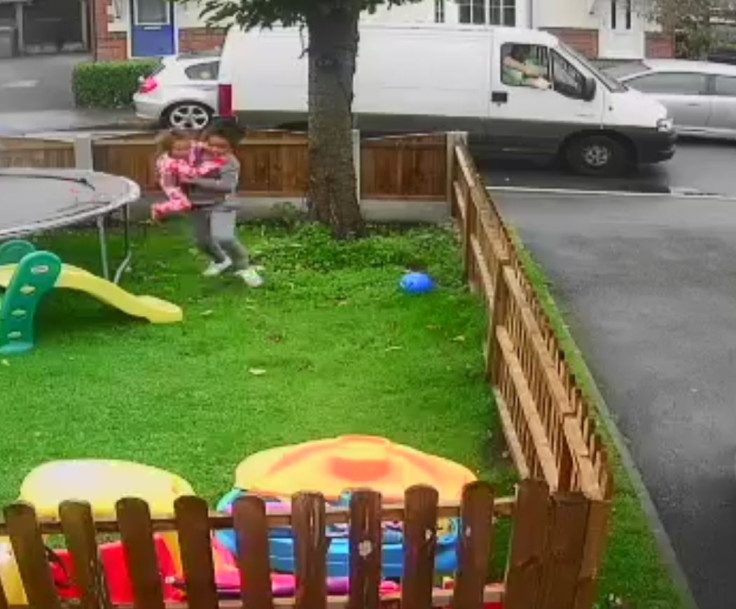 Haigh added: "I'm thankful I have a very wise daughter. She was very fast. I've always told her about stranger danger but I never thought we would have to use it.
"You could see Ameya heading (towards the van). If she would have got off that trampoline then god knows what. In a way I'm glad it happened because I can share this with my kids and other kids and they're very aware."
A Greater Manchester Police spokeswoman said: "The incident was reported to us at 11.30pm on October 7. It was believed to have happened at 2pm that day.
"It appears a van driver offered two girls doughnuts on Inglewood Close, Partington. He has then driven off. We are currently treating it as suspicious circumstances.
"Enquiries are ongoing."