Key Features:
8.3in screen (1920 x 1080)
1.83GHz Quad-core Intel chip
Android 4.4 (KitKat)
9mm; 410g
Dolby speakers
Price as reviewed: £129
Tesco Hudl 2 Review
Tesco knows its market. The original Hudl was a huge success, selling 750,000 units through the company's UK stores.
The original offered a combination of decent hardware with a simple interface and a low price of just £119.
The second generation Hudl is looking to build on that with much improved design and hardware, a bigger screen but continuing the budget pricing with a cost of £129. Can Tesco repeat the success in an even more competitive market?
---
Hudl 2: Ease of Use
---
The Tesco Hudl is not aimed at those who are interested in using their tablet for work, or for playing high-end 3D games. It is aimed at someone looking for their first tablet or upgrading from the original Hudl.
From the packaging to the user-interface, the Hudl 2 does as much as possible to make setting up and using it stress-free.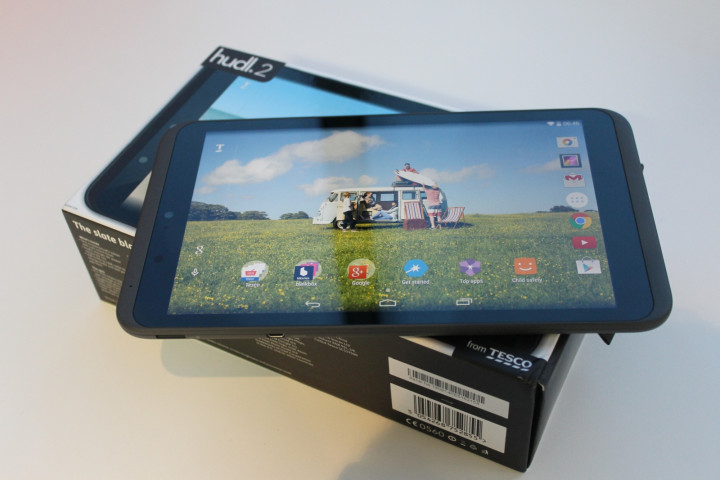 The packaging labels everything, including a screen protector which shows you just what every port and button does. There's a simple, straight-forward set-up pamphlet that even the biggest luddite should be able to get their heads around.
The Hudl 2 runs Android 4.4 but Tesco has made some modifications to the software, including a handy Get Started app which plays when you first switch on the tablet. Just like the packaging this simply and clearly explains how the tablet works and where to find everything.
While Apple's iPad setup is similarly straight forward, it also costs three times the price of Tesco's new Hudl.
---
Hudl 2: Clubcard points and Child Safety
---
Other software tweaks see Tesco continue to promote its own shopping apps as well as its Blinkbox film, book and music stores. A swipe to the left of the home screen will launch a custom interface where you can track your Clubcard points, special offers and any deliveries you may have ordered.
The other major enhancement Tesco has made to the Android interface is the addition of Child Safety, a feature which allows parents set up separate accounts on the tablet for their children and set usage limits and restrict what apps and website they can access.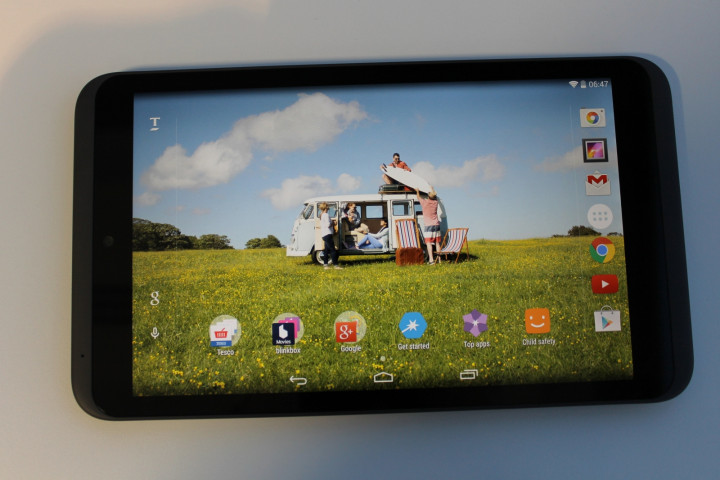 It is a brilliant feature which is easy to set up and control. It is a feature which should be available natively on Android and iOS, so kudos to Tesco for adding it in.
While Tesco has kept the simple appeal of the original Hudl, the Hudl 2 is a major redesign in terms of looks and hardware from the original.
---
Hudl 2: Design
---
The biggest change is the Hudl 2 now has a 8.3in screen, up from the 7in screen on the original, and the resolution has also been boosted to Full HD, which means videos, websites, pictures and ebooks all look much sharper.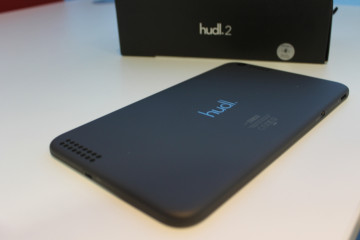 Like almost all tablet screens (except the new anti-glare screen on the iPad Air 2), the Hudl 2's screen is very reflective in bright light. That said, by boosting the brightness it is useable in almost all lighting conditions.
The larger 8.3in screen means it is better for watching video and playing games, but using it one-handed for reading ebooks or websites is slightly less comfortable.
Design wise, the Hudl 2 is obviously heavier than the original (410g vs 370g) but at 9mm thin it is compact and never felt as if it was too bulky or heavy.
The Hudl 2 features a soft-touch plastic finish, which feels great and the eight colour options (Jazzy Blue, Zesty Orange, Slate Black, Rocket Red, Tropical Turquoise, Dreamy White, Perky Purple and Bubblegum Pink) are very attractive - and will no doubt appeal to children.
---
Hudl 2: Speakers and Camera
---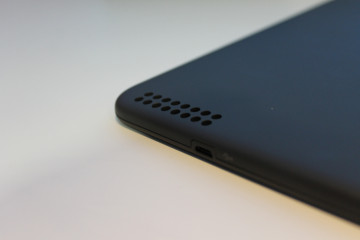 On the rear Tesco has prominently positioned stereo speakers with Dolby technology built in. They sound good, but just like the BoomSound speakers on the news Nexus 9, I question how often people use speakers on tablets - though as this is a family orientated tablet, maybe they will be used more often.
Both cameras on the Hudl 2 have also been updates, with a 5-megapixel (MP) sensor on the rear offering 1080p video recording, while the front-facing camera features a 1.2MP sensor which is capable of HD video recording.
As you may have suspected, nether camera will take great pictures, but they will do in a pinch, and for video calling they are more than adequate.
---
Hudl 2: Performance and battery life
---
In terms of internal hardware, Tesco has decided to go with a quad-core Intel chip to power the Hudl 2, pairing it with 2GB of RAM.
While on the face of it, this should be a relatively powerful set-up I found the interface to be sluggish, with startup times slow and switching between apps far from fluid. That said, the tablet has no problem with streaming HD video or playing some 3D games like GTA.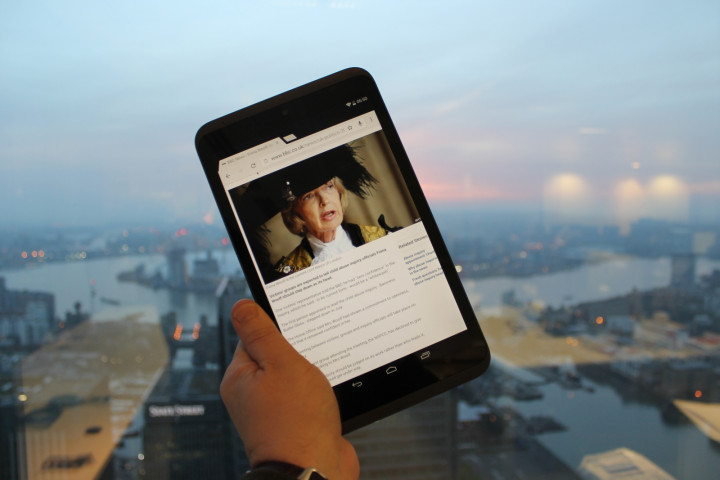 Elsewhere you get the traditional combination of Wi-Fi and Bluetooth, but there is no 3G or 4G model available. You also don't get support for the faster Wi-Fi AC standard. One additional hardware feature not on a lot of tablets these days is a dedicated microHDMI port to allow you hook up your tablet to your TV - though you will have to buy a cable.
In terms of storage, the Hudl 2 comes with 16GB of in-built storage which can be augmented with a microSD card up to a further 32GB.
Finally on the hardware side is battery life, which Tesco pegs as eight hours and this is more or less accurate (depending on what you are doing). While it's not the best battery life around, it is not terrible either.
---
Hudl 2: Value and Verdict
---
The Tesco Hudl 2 costs £129 which is a remarkable price for the such a tablet. For just £10 more than last year's original Hudl, you get a lot more tablet. And for those with Clubcard points to spare, you can get the Hudl 2 for just £65.
The bigger, higher resolution screen; the slimmer more attractive design; powerful hardware; improved speakers and cameras; and slicker software all add up to make the Hudl 2 a brilliant device.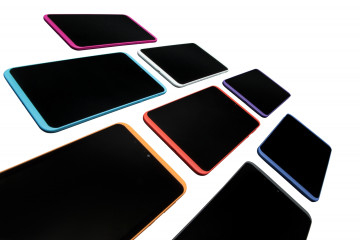 There are cheaper tablets on the market - the 6in Kindle Fire (16GB model) from Amazon costs £109 but that is essentially a big smartphone. The 8.9in Kindle Fire HDX costs a huge £339.
The original iPad mini can be had now for under £200 but that is a two-year-old device. The Nexus 7 is no longer on sale from Google with the Nexus 9 costing £319.
The rest of the budget tablet market is filled with devices from relatively unknown manufacturers, and while Tesco is far from a well-known name in consumer electronics, it has built on the success it had with the original Hudl to create the best budget tablet on the market today in the Hudl 2.
Hudl 2 Scores:
Screen 8/10 - Bigger, sharper and brighter than the original
Design 8/10 - This is no iPad Air 2, but it is a lot more attractive that last year's model, particularly the brighter colour options.
Performance 8/10 - The Intel chip does a job, but at times the interface is sluggish
Value 10/10 - You won't get a better tablet for £129.
Software 9/10 - The Child Safety is brilliant while the Tesco stuff is there if you need it but unobtrusive otherwise
Overall 9/10 - The best budget tablet on the market
The Good
Attractive colourful designs
Big, bright sharp screen
Child Safety
Low, low price
The Bad
Performance is sluggish at times