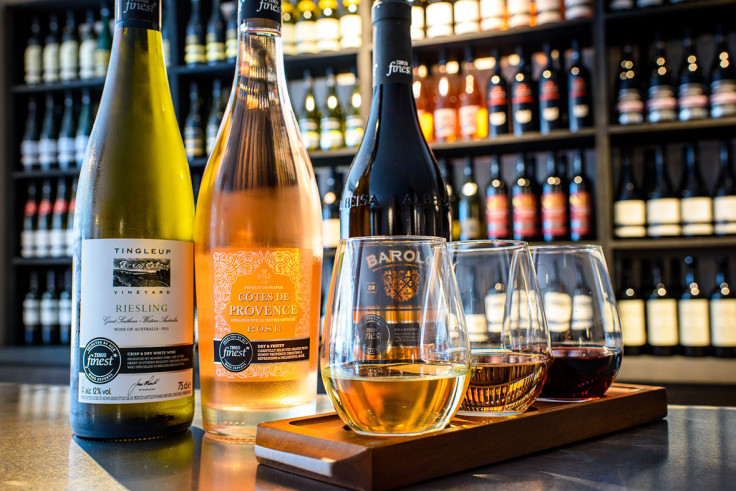 Supermarket behemoth Tesco has opened a pop-up wine bar in London's Wardour Street with the express aim of getting drinkers to try different wines and be more adventurous.
Their list of wines by the glass is surprisingly lengthy – 16 reds, 18 whites, two roses, two sweet wines, three champagnes and three sherries, all from the familiar Finest range. They are grouped into categories such as 'crisp', 'rich' and 'fruity', and it's a great opportunity to stretch your tasting muscles. The idea is, like a Malbec? Try a Pinot? Enjoy a cool Sauv Blanc on a warm day? Surprise yourself with a Reisling.
It's a smart idea, and let's face it, Tesco spend a huge amount of money and time working out what people want and expect from their plonk and they are very successful at it. Not surprisingly, price is absolutely key. The UK spends £39bn on alcohol per annum, and 30m people in the country drink wine.
The vast majority of bottles are drunk within two days, and for a major retailer like Tesco, the £10 barrier is the magic mark – only 13 of the 48 wines in the range are over a tenner, including their three own-label champagnes.
In the pop-up bar, most of the wines by the glass are priced at a very competitive £3-5, far cheaper than many neighbouring bars in 'that Lundun'. Cleverly the bar also offers a 'flyte', which offers three glasses to try at £7 – one from the whites, one red and one from either a 'modern classic', 'fortified' or sparkling. This is already proving very popular.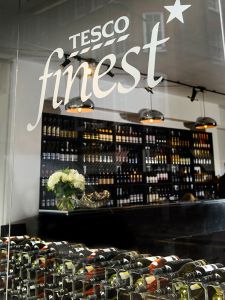 The venue itself is a delight; an art gallery which has closed for a fortnight but left with a few choice pictures left in situ, interspersed with Tesco's own tasteful photographs of vineyards, chateaus and close-ups of grapes.
The lighting is tasteful, the bar and tables look like they've been sat there for months rather than the temporary structures they actually are, the toilets are spotless and the atmosphere is lively on a warm evening in London's Soho. But what about the wines?
Ruthlessly efficient is probably the fairest term. Tesco has done a huge amount of research on what people like and buy, and what they seem to be afraid of, and their list does what it says on the tin. All are absolutely fine within their price range – one or two are real bargains – but none could be described as particularly exciting or boundary-pushing.
The list reads like a greatest hits of wine – Chablis, Sancerre, two Reislings, three sauv blancs (three!), a Shiraz, Malbec, Merlot, Pinot Noir, etc etc. If the idea behind this venture is to get people to push the boat out boundaries and try something new, there are remarkably few opportunities to do so.
A quick poll in the office revealed most people would go for their Friday night favourites, even if they were free. Without wishing to sound like Al Murray's pub landlord it was rosés for the ladies, Châteauneuf-du-Pape for the gents. No one went for the few interesting ones on the list – the two sweet wines, the three sherries, the Picpoul de Pinet or the Gewurztraminer. The rosé was a little austere, the prosecco refreshing but with no length, the Sancerre crisp and fresh with little minerality.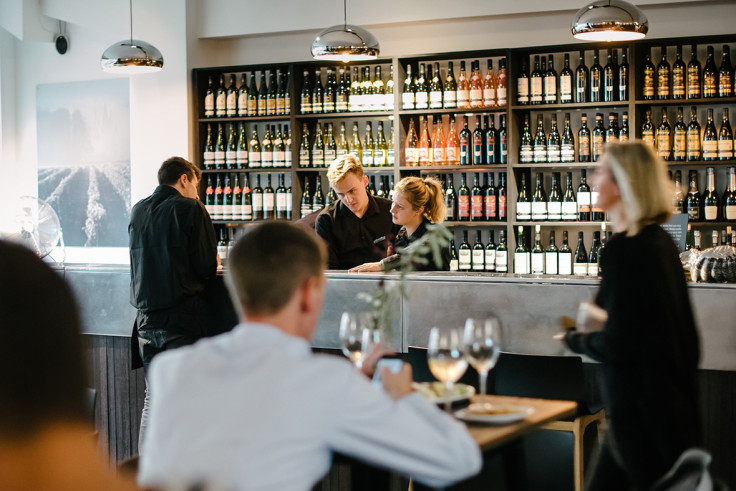 Although there was much talk of the amazing rise in English wines in the room, not one appeared on the list – Tesco does not currently stock them. They promised that will change, and also stressed that wine is an agricultural product, and subject to the vagaries of weather, climate and even Brexit. Even taking all of that into account this seems like a missed opportunity.
If Tesco is wondering why Waitrose keeps winning supermarket wine of the year it should take a look at its rivals' fantastic selection of wines. Yes they are more expensive but sometimes only an exciting new flavour will do. Plus people do have birthdays, Christmas, Easter and exam results to celebrate. By comparison Tesco's wine bar seems a little prosaic – it's fine for a budget after-work snifter, but for a pre-theatre bit of gloss? Not really.
Tesco pop-up bar is at 147 Wardour Street until August 13.