Tesco Trouble vs Sainsbury's Success: How Justin King is Winning the Supermarket Battle
As Sainsbury's posts yet more solid results in the British grocery market, its rival and the UK's biggest supermarket chain Tesco is struggling to overcome the challenges of a difficult trading environment, with the Eurozone crisis looming over a Britain that is back in recession.
A profit warning and falling sales have blighted Tesco's performance, while Sainsbury's has defied dampened consumer confidence and domestic financial hardship to enjoy record trading and growth in new areas of its business.
"What Tesco need to get back into is that mindset of really understanding the customer. That was part of what helped them build that success and huge lead over their rivals," Matt Piner, lead consultant at retail analyst Conlumino, told International Business Times UK.
In Sainsbury's first quarter, the 12 weeks to 9 June, sales in its stores open for more than a year were up 1.4 percent, excluding fuel. Tesco, in contrast, saw its like-for-like sales drop 1.5 percent in the first three months of the year, excluding VAT and petrol.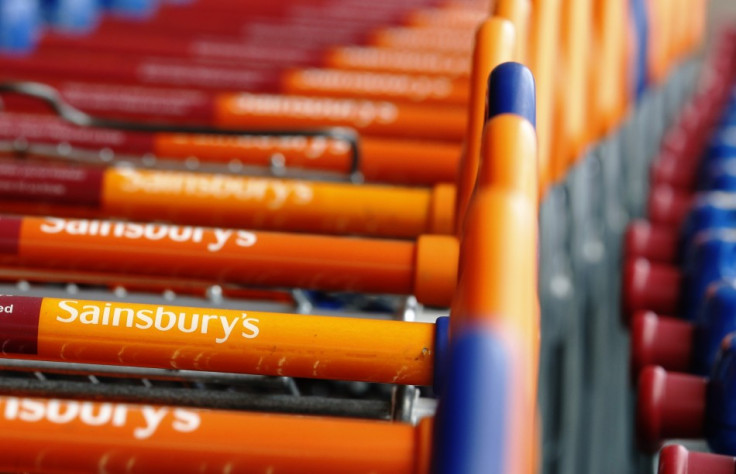 While Sainsbury's grew plumper than a turkey over the festive period, reporting its best winter holiday trading ever, Tesco bosses gave their investors coal for Christmas and issued a profit warning - the company's first in 20 years.
With share prices across all markets plunging since the eurozone crisis intensified, the fall in Tesco's stock has been sharper over the past two years than Sainsbury's.
Since June 2010, Tesco stock has fallen 22.37 percent, nearly triple the decline of Sainsbury's and well shy of the 6.5 percent advance for the FTSE 100 during that time.
Market maturity and back to Basics
Sainsbury's success can be pinned largely to two reasons, argues Piner.
The first is the success of its marketing to consumers.
"I think that they have had the right strategy in place in terms of pitching their proposition at the consumer, so I think they have done well to find the right balance of value and quality," Piner said.
"The Basics range over the last few years has been a real strength for them and allying that to their more traditional reputation at the quality side of the equation is giving them much broader appeal.
"They have added to that by bringing in the kind of 'live well for less' and 'feed your family for a fiver' ideas and so they have really made sure that they have hit all those messages of value and health and quality, which are very contemporary and of the time."
This is particularly true around the Queen's Diamond Jubilee celebrations "when people have been looking to treat themselves and spend a little bit more, but at the same time getting good value for that budget."
Indeed the Jubilee, which falls under Sainsbury's first quarter but not Tesco's, helped contribute to the company's success in the early part of its financial year.
"Customers continued the habit of savvy shopping to save money in order to be able to treat themselves on special occasions, shown by strong sales in the lead up to the Jubilee celebrations," Justin King, Sainsbury's chief executive, said when announcing the supermarket's results.
The second reason for Sainsbury's recent success, particularly compared to Tesco, is that it lacks the market maturity in the many areas that its rivals have long been residents.
"Whereas Tesco has hit this period at a much more mature state, Sainsbury's has the advantage that there are quite a lot of areas of untapped potential," Piner said.
"Even though food volumes are very difficult at the moment, they have been able to offset that a little bit more with moves into convenience, with moves into online, and also moves into non-food, which is a very mature area for the likes of Tesco and Asda.
"For Sainsbury's there is still a lot of growth to be had there."
Sainsbury's homeware department has the feeling of a more affordable John Lewis, the upmarket department store, while its clothing range enjoys the association with popular celebrity fashion guru and ubiquitous television presenter Gok Wan.
"They are in the relatively unusual position compared to those other grocers that their non-food is actually out-performing - for Tesco this has very much proved a drag," Piner said.
Store refurbishment versus expansion
Tesco, which holds almost a third of the grocery market share, has focused on new store expansion in recent years as a strategy for maintaining its position as the dominant supermarket in Britain.
"I think they were perhaps a bit slow to acknowledge that continually taking on new spaces wasn't the best strategy going into this economic climate, and because of that the stores that they have opened have cannibalised their like-for-likes and dampened that performance," Piner said.
Sainsbury's was quicker to shift focus away from new store expansion and instead prioritise the refurbishment and upgrading of existing stores.
It was not until April, after the company's chief executive Richard Brasher walked out in March because of worsening performance, that Tesco slashed its new store expansion by 38 percent and chose to invest £1bn in revitalising its current retail spaces, products, and brands.
"If you look at what Tesco was doing and the kind of warehouse format, then that is something that does look out of date," Piner said.
"It is something that they found in France as well, with Carrefour and the like, that those large retail warehouse environments where you just pile up the food and sell it are not really as popular as they once were, whereas the softer and more experiential feel that Sainsbury's and Waitrose and Morrison's are going for is proving a lot more popular."
Tesco's Everyday Value refresh
Recently Tesco also gave its Everyday Value range a makeover, in a bid to claw a bigger share of the lucrative own label market.
It upgraded products' ingredients and redesigned the iconic, but dated, blue and white stripe packaging on its cheapest own-label range.
Now the labels and packaging is more colourful and inviting than the coldness of the old designs.
Improvements in the range include only fillet being used in the fish fingers, more chocolate chips in the biscuits, and more meat with higher quality ingredients in value ready meals.
"Tesco was the first supermarket to launch a Value range back in 1993 ... Almost 20 years on and an affordable quality range is more relevant than ever, but customer needs have changed," David Wood, Tesco UK marketing director, said when re-launching the range.
While Piner welcomes this refresh of a tired brand, it is reactive and not proactive, he says, significant when you consider that Tesco was once a market leader in innovation, with ideas such as the consumer loyalty-inspiring Clubcard, a concept that has spread to most other supermarkets.
Tesco out of touch with customers
"I think they have kind of lost touch a little with what it is that shoppers actually want," Piner said.
"If you had to get down to one problem that is at the heart of it, it is that. They need to really decide who their customers are, what those customers want, and how they can best serve that.
"But that is quite a big task, particularly when they have lost as much momentum as they have."
Despite the troubles, Tesco's position as the biggest force in the grocery market is secure.
It is so vast - almost twice the size of Sainsbury's and Asda - that it would take a long time for its rivals to come close to it - but there is a caveat.
"You can very much see that over the next four or five years that lead is going to be continually eaten into," Piner said.
"They are so mature and the fact that are so big just means they are to be shot at.
"By its very nature, the fact that they have almost a third of the market means that any gains that their competitors make are most likely to come at their expense."
© Copyright IBTimes 2023. All rights reserved.