After months of rumours, speculations, and delays, Elon Musk has finally unveiled the prolific Tesla Semi truck. The electric vehicle, teased by the billionaire on several occasions since April, has a minimalistic design and marks the company's entry into a highly competitive segment of the automotive sector. The new big rigs will help the company go beyond affordable and high-end electric sedans.
Musk had previously said that the vehicle would "blow your mind clear out of your skull and into an alternate dimension" and the vehicle does exactly that.
During the event in Hawthorne, California, Musk made a grand entry with the electric big-rig, which boasts an expansive centre seated cockpit. The vehicle outperforms conventional diesel trucks and packs a 500-mile range on a single full charge.
Musk says, the vehicle could give you a 400-mile range with a 30-minute charge with its Megachargers — supercharger like charging stations, which would be built by Tesla and powered by solar energy. "You can travel anywhere in the world via the Megachargers".
The new electric truck can carry 80,000lbs (36,287kg) of load, and can go from zero to 60mph in 20 seconds with the maximum load. Without any load, the vehicle can give you the same speed in just five seconds.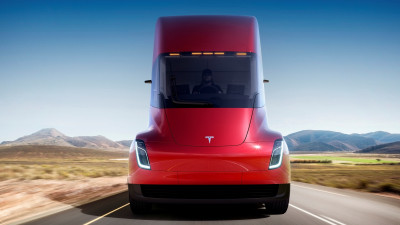 Among other capabilities, the new Tesla Semi packs an enhanced autopilot mode and features like jackknifing prevention, sensors for detecting blind-spots and data-logging for fleet management.
The grand launch of the vehicle comes after the original launch on 26 October had to be rescheduled in a bid to increase Model 3 production volumes as well as to increase battery deliveries to hurricane-hit regions such as Puerto Rico and other regions. The vehicle reveal has been hyped over the past few weeks, considering Musk has been regularly fanning expectations on Twitter.
The new Tesla Semi is slated to go into production in 2019.