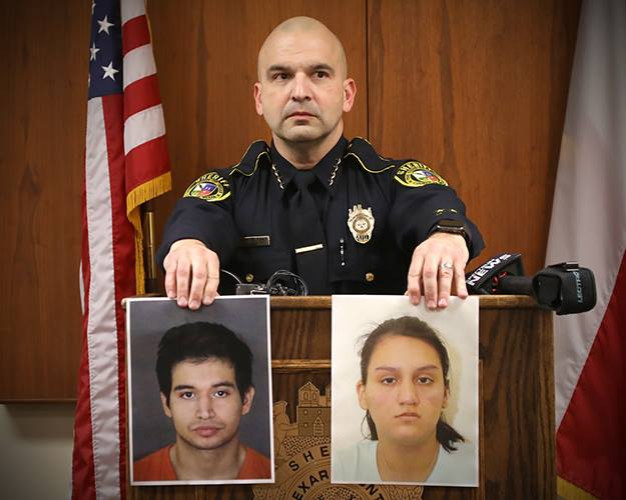 A Texas couple was arrested in the "horrendous" sexual assault case of a 21-month-old toddler who suffered life-threatening injuries during the abuse, Bexar County law enforcement officials said.
Deputies and emergency crews were called to a Bexar County home approximately 9am CST (3pm GMT) on new year's eve following reports that a child had been injured when she was attacked by dogs. Authorities were told by 23-year-old Issac Cardenas that the toddler was attacked by dogs at the residence after wandering outside her home in the middle of the night.
Authorities questioned Cardenas and 22-year-old Krystal Herrera, a female relative of the child, and determined that their story was inconsistent with the crime scene and the evidence. Bexar County Sheriff Javier Salazar told reporters that investigators could see "immediately" that the girl's injuries were not from a dog attack.
Officials noted that animal control retrieved the dogs, which did not show any aggressive behaviour.
According to KFOR, police said the child suffered from extremely serious and life-threatening injuries consistent with a brutal sexual assault and multiple stab wounds to the "private areas of her body." The victim was taken to a local hospital to receive treatment.
"Without being too graphic about it, [for] a child this small to suffer those types of injuries to the body parts that were injured. She's going to carry this for the rest of her life," Salazar said. "Physically, emotionally and all that entails and it's a heartbreaking case".
Cardenas faces charges for super aggravated sexual assault to a child and is being held on a $300,000 (£243,476) bond. If convicted, he faces a minimum sentence of 20 years, Salazar noted in a press conference. Herrera faces charges of serious bodily injury by omission, KFOR reported. The victim is in the custody of child protective services.
"The child's injuries are quite severe," Salazar added. "There's just no other way. I can't even begin to describe to you the level of depravity that went into this crime."