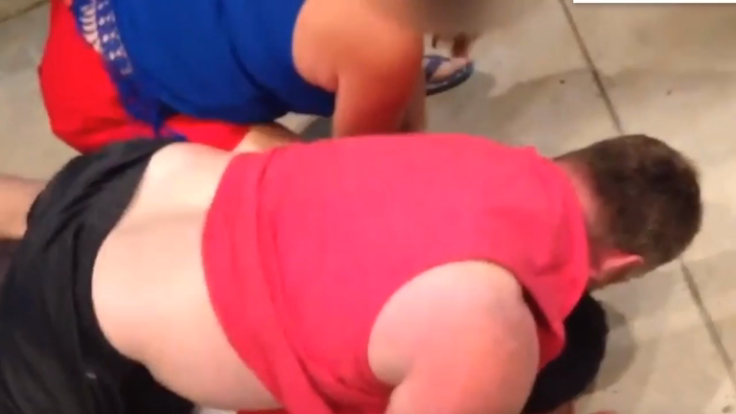 A young father who fought with the husband of a Texas deputy died from lack of oxygen to the brain caused by strangulation and chest compression, the Harris County Medical Examiner said. The autopsy found that the 24-year-old's death was a homicide.
Newly emerged video shows John Hernandez being held down in a chokehold by Terry Thompson, the husband of Harris County deputy Shauna Thompson. The incident occurred last week outside a Denny's restaurant in the Houston area. The men got into a physical fight after the deputy's husband confronted Hernandez for urinating in public.
The video was recorded by a concerned citizen, who captured the encounter despite being told it was "illegal" to record, according to KDAF in Dallas.
"An anonymous concerned citizen brought me the video because he said it shows murder," attorney Jack Carrol said. "I concur."
According to the Houston Chronicle, Carroll is representing the unidentified man who recorded the footage.
During a press conference on Monday, Carroll said he was "pretty shocked" when he first viewed the footage. "It's a sad video, because you're watching a man basically get killed. He was kicking his legs in a helpless fashion... begging for it to stop," Carroll told reporters.
According to the Chronicle, the video lasts just under a minute long, but witnesses say that the entire fight lasted around 10 minutes. Throughout the video, two unidentified people attempt to block the camera's view, telling the man filiming that it is illegal to record.
"Why are you recording," a woman screamed. "The lady is a sheriff's deputy. If you continue recording, you will go to jail," added another man.
"This is what witnesses have been saying all along," said civil rights lawyer Randal Kallinen. Kallinen is representing the Hernandez's family. "The Harris County deputies actively tried to cover up the killing at the scene and let a killer go free because he was married to a deputy."
Attorneys representing the victim claim the video provides enough probable cause evidence to arrest and charge 41-year-old Terry Thompson, the husband of deputy Shuana Thompson.
However, Thompson's attorney, Scot Courtney, said Hernandez attacked his client first and was the aggressor. "This is absolutely not the full footage," Courtney said. "I think the comments made by the other attorneys are a little irresponsible. You need all of the facts before coming to the conclusion they're making."
Courtney's remarks were made before the results of the autopsy were revealed. Thompson's wife will be pulled from patrol duties starting Wednesday (7 June), sources told KTRK-TV.
Hernandez died on 31 May after he was taken off life support at Lyndon B Johnson Hospital. His family made the decision after being told by doctors that Hernandez was brain dead.