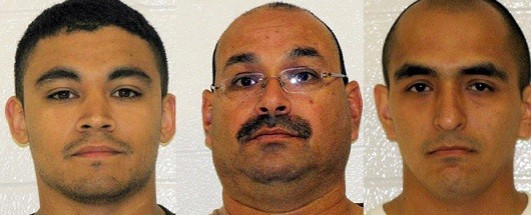 Two women are suing a Texas county and three prison guards for running what they described as a "rape camp" while they were incarcerated in the local jail.
The woman have filed a complaint against Live Oak County and three of its former employees, Vincent Aguilar, Israel Charles, Jr., and Jamie E. Smith, after they accused them of committing a series of sex acts against the female inmates between 2007 and 2010.
According to the complaint, the three guards repeatedly raped and physically abused the inmates as well as forcing them to commit sexual acts on each other and perform degrading sexually based tasks "for the amusement" of the guards.
The guards are also accused of withholding food and other basic hygiene, and even threatening to kill the inmates if they did not comply with their demands.
The complaint said: "These forced acts of lasciviousness included, but are not limited to, forcing female inmates to repeatedly perform oral sex on male guards, forcing female inmates to repeatedly masturbate the male guards, the male guards masturbating in view of the female inmates, male guards forcing digital penetrative sex acts on the female inmates', forcing female inmates to engage in sexual acts with other female inmates, including but not limited to forcing female inmates to have oral sex with each other, among other things.
"The abuse was so pervasive, and knowledge of it so widespread, that inmates in a neighbouring county - the Jim Wells County Jail - had knowledge of the assaults", the complainant added.
Although the three men were arrested in 2010 for two counts of sexual assualt, the filed complaint to the federal court has brought new details about the abuse sustained in the prison.
The woman are now suing the prison for punitive damages for civil rights violations, assault and emotional distress.
One of the woman involved in the case was sent from Jim Wells County Jail to Live Oak County Jail in 2010 after been sentenced for marijuana possession. She claims she was warned about Aguilar and Smith by another guard when she first entered the jail. When she asked why, the guard replied "trust me, stay away from them. I can't tell you why, I'd lose my job".
The second plaintiff said that when she arrived at the jail in 2010 , Aguilar said that she "look(ed) wild" and that he could not wait to have sex with her. He then pinned her face-first against a wall and indecently assaulted her.
She was then subjected to a series of sexual assaults by the defendants over the next few weeks.
According to the woman, the guards knew where to take inmates to avoid having their sexual assaults recorded by the jail's "grossly ineffective" camera system.
Attorney Ronald W. Armstrong said: "These and similar acts occurred so frequently that the plaintiff cannot account for the number of assaults she was forced to endure," adding that all three jailers would sometimes be present during the assaults.