A Texas veterinarian has been dismissed from her job after a picture of her holding a cat with an arrow through its head was posted on social media.
Dr Kristen Lindsey posted the kill picture of the cat on Facebook on Wednesday (15 April) and wrote alongside the image: "My first bow kill, lol. The only good feral tomcat is one with an arrow through it's head! Vet of the year award… Gladly accepted."
Apparently thinking that the cat was "feral", Lindsey bragged about the cat's death.
A local CNN affiliate has reported that the dead cat was a pet of a nearby elderly couple: a six-year-old tabby called Tiger that went missing in Brenham, Texas earlier in the day.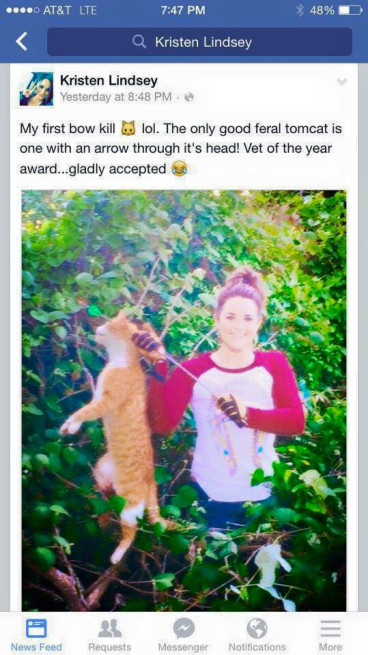 The disturbing image quickly went viral and outraged Facebook users who said that she should be charged with a criminal offence.
Insisting that she hadn't been fired in a later post, Lindsey wrote: "And no I did not lose my job. Psshh. Like someone would get rid of me. I'm awesome!"
Speaking to local news channel, Austin County Sheriff Jack Brandes said: "This kind of stuff shouldn't happen in our society.
"It's a very sad thing. Hopefully we will get to the bottom of it and get the truth, 100% truth, and get it to the DA and put it in his hands if it needs to go any further."
Fired
Lindsey has since been dismissed from her job at the Washington Animal Clinic who were quick to condemn and distance themselves from her actions.
"We are absolutely appalled, shocked, upset, and disgusted by the conduct," said a Facebook statement, made by staff on Friday (17 April).
"We have parted ways with Ms Lindsey. We do not allow such conduct and we condemn it in the strongest possible manner.
"Please know that when informed of this we responded swiftly and appropriately and please do not impute this awful conduct to the Washington Animal Clinic or any of its personnel."
Social media shaming
A Facebook page calling for Justice for Tiger has been set up and has garnered just under 21,000 likes.
Another page has been set up calling for support for Lindsey.
A charity, Alley Cat Allies, has offered a $7,500 (£5,018.41) reward for information leading to the arrest and conviction of the cat's killer.
Since posting the photograph Lindsey has removed her Facebook page and not replied to enquiries from news media.