Transport for London boss Sir Peter Hendy has launched a blistering attack on suburban rail services in the capital, calling them "s**t," "awful" and like something out of the "Wild West".
Hendy compared ticket inspectors to the Gestapo and sniped at Network Rail (NR) chief executive Mark Carne saying he was "a nice bloke" but no one listened to his plans for the rail service because NR "can't fix London Bridge".
As boss of TfL, Hendy is responsible for bus and Tube journeys in the capital, as well as some overground trains. TfL hopes to take over more suburban services from other train companies. In his interview, published in Management Today, Hendy contrasted the experience of someone making a mistake with their fare on his system and travelling on Southeastern.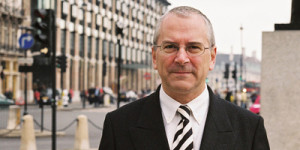 "On Southeastern the trains are like the Wild West," said Hendy. "They are s**t, awful. And every now and then some people like the Gestapo get on and fine everyone they can. It doesn't improve your day does it?
"People hate the suburban rail service, they hate it. If you make a mistake on your Oyster card on the Tube, we'll refund it. On South West Trains, they'll fine you. That's a big philosophical difference."
There were delays once again at London Bridge on 23 April due to signalling problems and many commuters agreed with Hendy's comments about Network Rail.
Systems architect Dan Bissett told The Guardian: "I catch a train from Tunbridge Wells to Cannon Street but the service isn't as frequent so I end up travelling to London Bridge, which adds 30 minutes to my journey.
"They've known about the changes around London Bridge and Blackfriars for years but have done nothing to improve the frequency or capacity. They're constantly delayed. Some trains have eight carriages, some only have four."
However a spokesman for Southeastern said: "We are really proud of our frontline teams and the work they do every day, helping hundreds of thousands of passengers. It is disappointing that Peter Hendy's comments do not reflect their dedication and hard work."
On Twitter, Hendy had some support but others found his remarks somewhat ironic when London bus and Tubes are often so overcrowded.