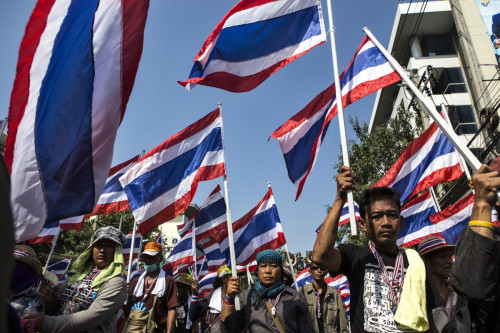 Travellers have been warned by the Foreign Office about visiting parts of Thailand following outbreaks of civil unrest.
People planning to visit Bangkok have been warned to take extra care to avoid areas where protests are taking place and advised visitors to check local news and social websites for further information about these areas.
An FO statement said: "Political demonstrations continue in and around Bangkok and elsewhere in Thailand. Some of these have been violent, including the use of firearms, and there have been casualties. The situation is unpredictable and further protests are expected.
"An escalation in protest action in central Bangkok since 13 January is causing significant disruption to roads in affected areas, with knock-on effects across the city. The main protest sites are at the major intersections of Sala Daeng, Asoke, Ratchaprasong, Pathumwan, Victory Monument, Lat Phrao and at the government complex at Chaeng Watthana. Some protest sites are located close to shopping malls.
"You should take extra care and avoid all protests, political gatherings and demonstrations. If you're travelling to the airport, allow extra time to take account of possible transport delays, and consider using the airport rail link."
A grenade blast at an anti-government rally in Bangkok has injured at least 28 people, and eight people have died since protests began there in November. Activists want prime minister Yingluck Shinawatra to step down in place of a "people's council". They say she is being influenced by her brother, the deposed leader Thaksin Shinawatra.
Shinawatra has called for elections on 2 February but opposition leaders are now boycotting polls.
According to the BBC, reports suggest there was an explosive device – most likely a grenade – thrown from a building: "The bomb went off about 30m [100ft] from Suthep and then his bodyguards escorted him back to a rally stage," police spokesman Akanat Promphan told AFP news agency.
In other parts of Thailand, the FCO has advised against all but essential travel in light of terrorism threats. Areas include Pattani, Yala, Narathiwat and Songkhla on the Thai-Malaysia border.
"The FCO advise against all travel to the Preah Vihear (Khaoi Pra Viharn in Thai) temple area and the Ta Krabey/Ta Moan temple area located on the Thai-Cambodian border due to the presence of troops in the area and the risk of outbreaks of fighting ... There is a high threat of terrorism."
The FCO has also issued a map showing areas of Thailand affected by unrest.