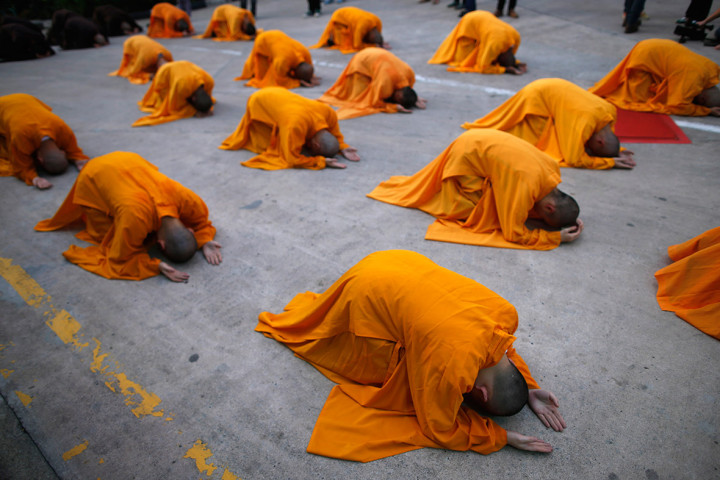 A Buddhist monk has been jailed for raping a teenage girl in his temple in Bangkok, Thailand.
Sanan Kamsridaeng, 65, was sentenced to five and a half years in jail after he confessed to raping the girl at his temple.
The victim, who was reportedly aged under 15 at the time the rape took place, had also been detained against her will in the temple by the monk.
"He was sentenced on Thursday to six years in jail for the first count... and five years for the second count. But because he confessed, the judge cut his sentence to five years and six months," a Bangkok criminal court official told AFP.
The conviction comes as the leader of Thailand's military junta, General Prayuth Chan-ocha, expressed concern over the image of Buddhism.
"There have been a lot of cases regarding bad behaviour related to monks, so we just want to fix this problem," said the junta spokesman Werachon Sukondhapatipak, in a report in The Guardian.
Last September, according to that same report, authorities seized nearly US$800,000 (£469,971) worth of assets - including a Porsche and a Mercedes-Benz - from a monk who was defrocked after travelling in a private jet and following accusations that he'd fathered a child by an underage girl a decade earlier.
In response to the growing concern regarding monks' misbehaviour, the National Office of Buddhism (NOB) launched in June a 24-hour hotline to report monks' bad conduct.
Napparat Benjawattananant, head of the office, said at the time the hotline was launched, "People can file a complaint if they see monks are involved in irreligious things. For example if they see fake monks collecting donations.
"We don't have enough staff to check every monk, so we need to mobilise the general public."
The hotline has received 142 complaints against unruly monks so far.
"But for sexual complaints we have to carry out in depth investigation," Benjawattananant said, adding monks found to have had sex should also face criminal charges.