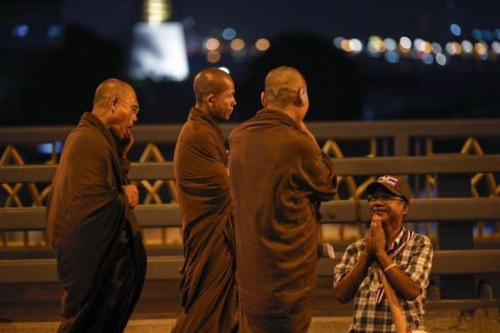 Five people have been killed and six injured in an attack by suspected militants in southern Thailand, according to police.
Four gunmen opened fire at a group of villagers paying respect to a Buddhist monk in Mae Lan district in Pattani province on Thursday, news agency Agence France-Presse have reported.
A 68-year-old monk, a woman and her 9-year-old son and another woman were killed in the Thursday morning attack, police said.
Among the six injured was a policeman providing a security escort for the monk.
A policeman's wife was shot dead and then set on fire in front of a terrified crowd at a busy market in Pattani, Thailand, on Monday.
A note left at the scene said: "To the army chief: this is not the last body for the three brothers."
Police said the recent killings could be revenge attacks for the deaths of three young Muslim brothers.
The boys were shot in front of their home in neighbouring Narathiwat province. Their pregnant mother and father were also shot in the attack but survived.
Srisompob Jitpiromsri, at Prince of Songkla University in Pattani, said the boys' deaths "have set off a chain-reaction which will be hard to control unless authorities can bring to justice their killers".
"Emotions in the local community are running high, on both sides, and the insurgent movement has taken their deaths as an opportunity for revenge," he added.
"It will be difficult for the authorities to control the violence unless they can bring the boys' killers to justice."
Nearly 6,000 people have died and 10,000 been injured since 2004 ethnic separatist insurgency, which has pitted separatist Malay Muslims against Buddhists.
The insurgents demand a level of autonomy from Thailand in the Pattai region, which comprises southern Thai provinces of Pattani, Yala, Narathiwat and parts of Songkhla, and the northern part of Malaysia.
Experts say the rise in deaths is linked to the stalling of peace talks while the Thai government struggles to curb anti-government protests in Bangkok.
Rebels, including those from the Patani independence movement Barisan Revolusi Nasional, have made a series of demands so that peace talks can continue.
NGO Human Rights Watch (HRW) warned against abuses committed by both sides.