The Foreign and Commonwealth Office has told all tourists travelling in Thailand to avoid protest action as the government issues a 60 day State of Emergency in the city and surrounding areas.
The State of Emergency came into effect today following an increase in protest action, with activists wanting prime minister Yingluck Shinawatra to step down in place of a "people's council".
Shinawatra has called for elections on 2 February but opposition leaders are now boycotting polls. They believe she is being influenced by her brother, the deposed leader Thaksin Shinawatra.
A statement from the FCO said: "Political demonstrations continue in and around Bangkok and elsewhere in Thailand. Some of these have been violent, including the use of firearms, and there have been casualties and deaths. The situation is unpredictable and further protests are expected.
"On 21 January the Thai Government declared a 60-day State of Emergency in Bangkok and surrounding areas from 22 January.
"An escalation in protest action in central Bangkok since 13 January is causing significant disruption to roads in affected areas, with knock-on effects across the city. The main protest sites are at the major intersections of Sala Daeng, Asoke, Ratchaprasong, Pathumwan, Victory Monument, Lat Phrao and at the government complex at Chaeng Watthana. Some protest sites are located close to shopping malls.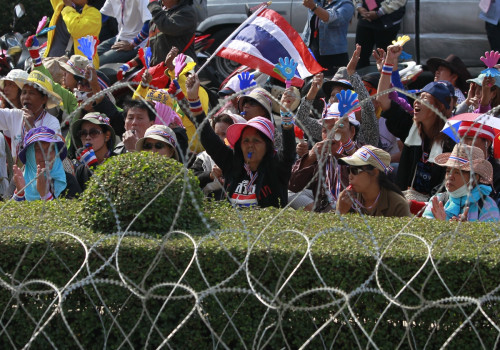 "There have been attacks involving weapons and explosives at protest sites and protest marches. Attacks have taken place during the daytime and at night.
"You should take extra care and avoid all protests, political gatherings, demonstrations and marches. If you're travelling to the airport, allow extra time to take account of possible transport delays, and consider using the airport rail link. Monitor local news and social media for developments."
Thai authorities have set up information centres for tourists travelling in the area, with Tourist's Friend Centres located at the Sport Authority of Thailand in the Bangkapi district of Bangkok, Suvarnabhumi and Don Mueang airports, four BTS Skytrain stations (Siam, Phya Thai, Ekkamai and Wong Wian Yai) and Hua Lampong MRT station.
Justice minister Chaikasem Nitisiri issued a statement in regards to the civil unrest in Bangkok ahead of the State of Emergency: "With the protests of the People's Democratic Reform Committee which have been intensified to shut down Bangkok, block the streets, and intrude into public offices, chaos and national disorder have constantly been caused. Government officials and citizens who think differently have been threatened and forced to leave offices.
"Such acts are against the laws, and therefore, the Government had decided to file charges of insurrection against 58 People's Democratic Reform Committee leaders as stipulated in sections 113-114-116-215 of the Criminal Code."