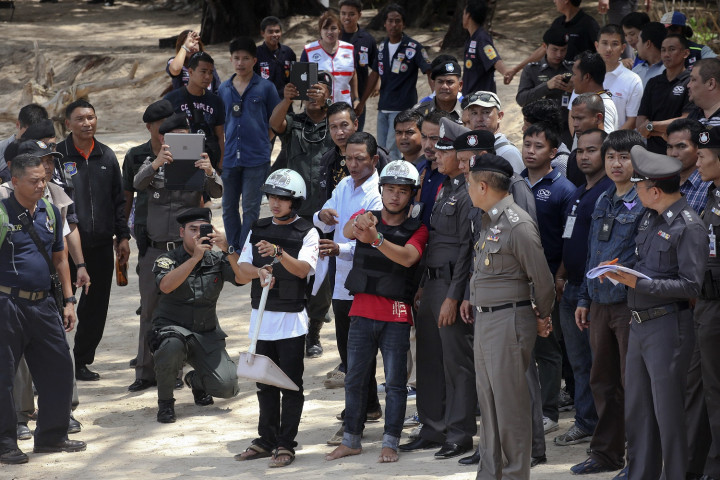 Two migrant workers who admitted to killing British tourists David Miller and Hannah Witheridge in Thailand have recanted their confessions following allegations they were tortured by police to do so.
Burmese nationals Zaw Lin and Win Zaw Htun, both 21, were arrested on suspicion of killing the British pair after their bodies were found on the holiday island of Koh Tao on 15 September.
Aung Myo Thant, a lawyer attached to the Myanmar embassy, said she had visited the suspects and claimed they were beaten, tortured and threatened with electrocution by police to force them to admit the murders.
Police have denied torture was used in order to coerce a confession from the pair and claim DNA evidence proves they are responsible.
Thant told the Bangkok Post the two suspects are now denying they killed Miller and Witheridge.
"They told me that they were on the beach that night drinking and singing songs," he said. "They said they didn't do it, that the Thai police beat them until they confessed to something they didn't do.
"They're pleading with the Myanmar government to look into the case and find out the truth. They were a really pitiful sight. Their bodies had all sorts of bruises. I have already reported all that I have seen today to my government."

The investigation has already come under criticism, with many believing the migrant workers have been made a scapegoat by police and claims of botched forensic work.
Human Rights Group Amnesty International have already urged an independent investigation into allegations the suspects were tortured into making a confession.
Richard Bennett, Amnesty International's Asia-Pacific Programme Director, said: "The Thai authorities must initiate an independent, effective and transparent investigation into mounting allegations of torture and other ill-treatment by police.
"The pressure to be seen to be solving an appalling crime that has garnered considerable attention should not result in the violation of rights, including to a fair trial."
He added: "They must also ensure that any alleged confession or information that has been coerced as a result of torture is not admitted as evidence in court, unless to prove that torture has been carried out.
"All suspects should also be guaranteed their rights to a fair trial – which is of particular importance in a crime that could carry a death sentence."