Thailand police have recovered numerous unexploded bombs from the three top tourist destinations that were targeted by unknown assailants on 11-12 August. In their hunt for the alleged mastermind behind the series of blasts – that left at least four dead and dozens injured – police said it knew who the perpetrators are, but are awaiting further details before being in a position to pin point a name and the motive.
Earlier, the government had ruled out the role of any Islamic terrorist group behind the blasts that rocked seven Thai provinces and tagged the incident as "local sabotage". Police is reportedly questioning several people in connection to the attack, but so far no name has been given out as yet.
On Sunday (14 August) authorities recovered and diffused several unexploded devices from two blast sites – the beach town of Hua Hin and in Phuket – AFP quoted Grisada Boonrach, the interior ministry permanent secretary, as saying. Police also found other unexploded devices a day earlier, in Phang Nga province. "It is likely they were intended to explode at the same time of the previous explosions," he added.
No group has claimed responsibility for the attack, but some analysts believe that it was carried out by Islamist rebels present in the country. Some have doubted the attacks are the works of rebels, dubbed "Red Shirts", who have so far been active within a particular territory in the country and never disturbed areas outside the conflict zone.
The Red Shirts, belonging to the poor and rural north-east of Thailand are loyal followers of the former prime minister Thaksin Shinawatra. The family has tasted victories during elections in the country, but military coups and a series of judicial rulings over the past decade never allowed them to remain in power.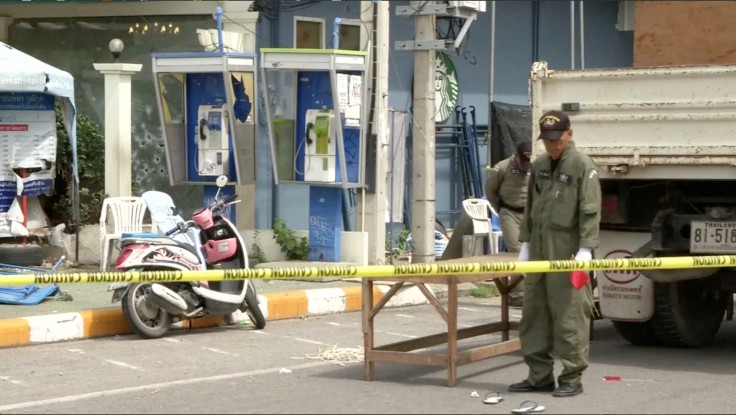 "It looks like the work of (the insurgents), judging from their kind of arms... it was not aimed to create mass casualties, so that's very similar to the far south," Don Pathan, a security analyst and expert on the insurgency, told AFP.
However, the Thai junta had ruled out the involvement of any Islamic group in the attacks. He said it would be a major embarrassment for the junta if the attack were to be an expansion of the ongoing Muslim rebellion.
Meanwhile, a leader of the Red Shirts expressed concern that the junta could now point fingers at their group following the deadly attacks. "We have been made victims for things we did not do several times before," Jatuporn Prompan reportedly said in a video posted on Facebook.