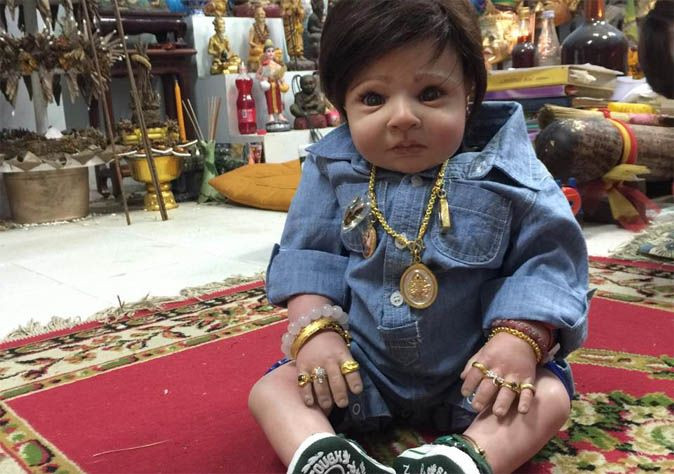 Childlike dolls that have been allowed their own seats on aeroplanes and their own portions of food in restaurants are something of a cultural phenomenon in Thailand. Not linked with any particular religion, the dolls are popular with superstitious members of the Thai population, who believe the dolls possess the spirit of a child, and, as such, are considered lucky.
But many owners of the 'child gods' or 'child angels', known as Look Thep, are not content with merely keeping one of the dolls, instead believing that the better the dolls are treated, the luckier the owners becomes. This belief has led to owners splashing out on designer clothes, meals and even plane tickets for the angels; in short, treating them as their own child.
The dolls have been around for several years now, but has gained popularity in recent months, as businesses cash in on their popularity by offering services for the dolls. It is reported by Bangkok Coconuts that the dolls were thought up three years by 'Mama Ning', a woman from west Bangkok, who said she calls on a Hindu goddess to create a new soul of Look Thep.
She also states that her first ever Look Thep, Petch, helped her tame the behaviour of her teenage son after she began treating Petch as her own child and taking him with her to temple. Thai Smile Airways recently stated that that child tickets could be bought for the dolls, to save them travelling as hand luggage or carry-on, on the understanding that they wore a seatbelt for take-off and landing, and didn't sit in an exit seat.
Meanwhile restaurant Neta Grill in Bangkok announced on its Facebook page that it was open to people of all faiths and would provide child-priced meals for Look Thep, provided all of the food was consumed, and therefore not wasted.
Recently, Thai Prime Minister Prayut Chan-ocha warned people to spend their money wisely, and not purchase Look Thep if they could not afford to, adding that people should not get carried away with the current trend, Thai PBS reported.
The trend isn't a cheap one, with dolls reportedly costing between THB1,999 (£39) and THB16,000 (£314) before the expense of clothing, feeding and flying with them. But it's a trend that is showing no signs of slowing down, with Bangkok Coconuts reporting that local celebrity DJ Bookkoh Thannatchayapan had announced that his Look Thep had brought him success in the entertainment industry.