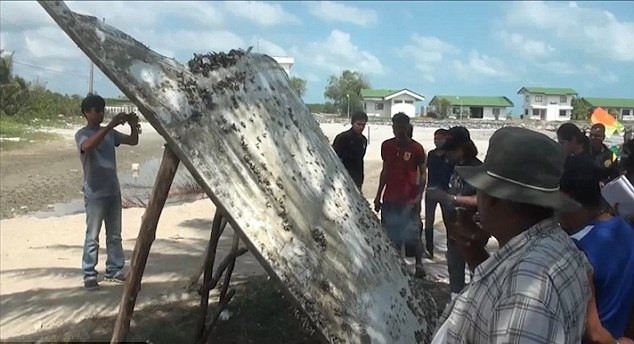 A piece of plane wreckage has been found on a beach in southern Thailand, sparking speculation that it belongs to the missing Malaysia Airlines Flight MH370. Villagers discovered a large piece of curved metal washed ashore in Nakhon Si Thammarat province.
Tanyapat Patthikongpan, head of Pak Phanang district confirmed the reports saying: "Villagers found the wreckage, measuring about 2metres wide and 3metres long (6.6 by 9.8 feet)." According to Patthikongpan, local fishermen said "it could have been under the sea for no more than a year, judging from barnacles on it".
Thai media have also been speculating that the debris could belong to the missing Malaysia Airlines flight MH370, which disappeared with 239 people on board during a flight from Kuala Lumpur to Beijing in March 2014, Mail Online reports.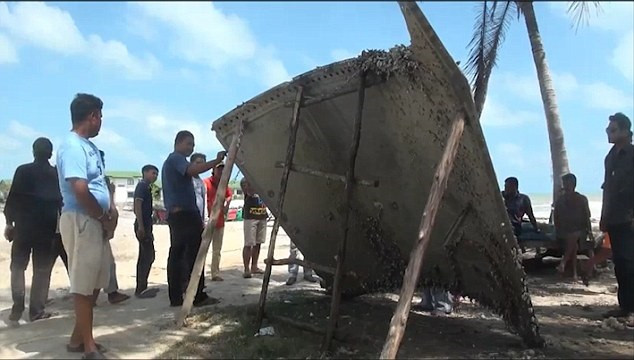 The barnacle-covered piece of metal has some identifying features, including the number '323' printed near the ragged edge, and the numbers '307' and '308'. On the reverse side of the shard, a red wire can be seen dangling, over what appears to be the serial number 'SG5773-1'.
It is the second claim relating to the missing passenger jet this month, after search teams mistook a 200-year-old shipwreck in the Indian Ocean for the plane wreckage. The Joint Agency Coordination Centre (JACC), based in western Australia, located the large metal object, which looked similar to the fuselage of a plane, using an underwater sonar vessel.
In September 2015, French prosecutors confirmed 'with certainty' that a section of wing found on a remote Indian Ocean island was from the missing flight MH370.
Tests were carried out on the flaperon, the 6ft-long wing flap which was found washed up 3,500 miles from the jet's last-known location, on La Reunion in July. Malaysian officials said it was 'almost certain' the wing flap came from a Boeing 777 – the same model as the Malaysian airlines jet.
However, despite discovery of the wreckage, families of the missing passengers refuse to accept that their relatives have died. Many maintain that since the bodies have never been recovered, the passengers may be held hostage following a hijacking.
Some investigators believe MH370's transponder may have deliberately been switched off before diverting it thousands of miles off course, fueling theories of a terrorist attack.
Following an investigation into the tragedy, Malaysian Airlines management said in a public statement they assume "beyond any reasonable doubt" that the missing flight "has been lost and that none of those on board survived".
The disappearance of flight MH370 remains one of aviation's greatest mysteries. The search for the plane is due to end in June this year, despite the Chinese relatives pleading for it to be expanded.
There has been no official confirmation that the wreckage belongs to a plane.