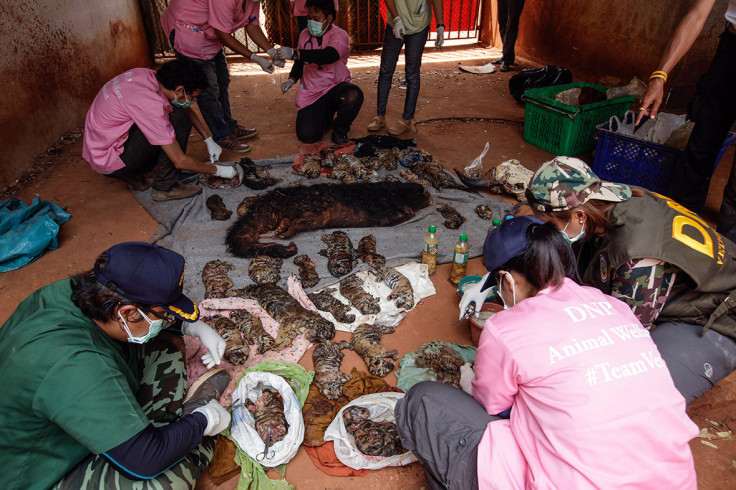 A tiger slaughterhouse thought to have been used in an illegal animal trafficking network has been discovered just 30 miles from the now-infamous Tiger Temple, Thai police have said.
Investigators believe the facility, surrounded by tall fences in a remote area, was used to hold live tigers before slaughtering them for meat, skins and bones.
Officers raided the house acting on a tip-off, reportedly discovering a holding pen, large chopping board and a variety of knives.
"We believe it was used by the Tiger Temple to hold live tigers before slaughtering them for their skins, meat and bones to be exported outside the country, or sent to restaurants in Thailand that serve tiger meat to tour groups," Police Colonel Montri Pancharoen, deputy commander of the crime suppression division, told Associated Press on Tuesday (7 June).
Pancharoen said two caretakers detained by police at the facility had claimed the tigers were the private property of the home's owner, who is yet to be found.
The discovery comes just a week after the Department of National Parks, Wildlife and Plant Conservation (DNP) closed down the Wat Pha Luang Ta Bua Tiger Temple in Kanchanaburi Province, west of Bangkok, following allegations of illegal wildlife trafficking.
Officials charged with relocating the 137 tigers to government-run sanctuaries went on to discover the bodies of 40 dead tiger cubs in freezers on the Buddhist temple's grounds, with 20 more found preserved in jars.
The attraction was popular with tourists who paid to feed, walk and get their pictures taken with the animals.
But authorities believe it was secretly being used by monks as part of an illegal trafficking operation, which included selling valuable tiger parts to Chinese medicine suppliers.
"The Tiger Temple is just a starting point, or a supplier," Pancharoen said. "We have information that the Tiger Temple is not the only place that supplies tigers to illegal smugglers."
Animal rights activists had long accused the Tiger Temple of mistreating the tigers, including drugging the animals. The monks at the Tiger Temple deny any wrongdoing and have for years resisted any attempts to remove the animals.