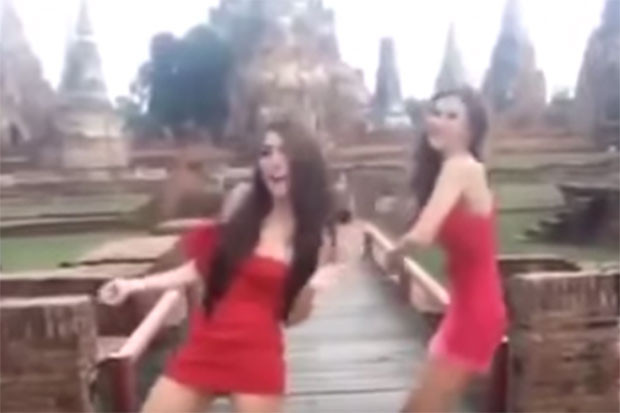 The Thai women wearing short red dresses and high heels provoked anger by their racy dance at the Wat Chaiwatthanaram temple.
Thannicha Nampanya and Nitikarn Chotthanapongsathit admitted to having danced inside the historic temple on an evening in early July. They apologised to the public and Ayutthaya residents, saying they were just having fun and were not aware of the consequences.
They have been charged with violating Section 13 of the Ancient Monuments, Antiquities and National Museums Act for actions deemed to cause damage to morals or insult to religion and culture.
A police officer escorted the two women back to the temple for a re-enactment of the actions, according to the Bangkok Post.
The city's assistant governor Rawat Prasong said: "The actions of the two women, both the way they dressed and danced, were improper. The dissemination of their dance routine online has cast the ancient temple in a negative light."
A YouTube video uploaded by VKIZZ caused much online criticism. The footage showed two young women in red dresses dancing around to pop music. The video has now been removed.
Pratheep Phengtako, director of the Fine Arts Office Region 3 in Ayutthaya, said: "Their inappropriate clothing and sensuous dance violated the Ancient Monuments, Antiques and National Museums Acts."
Police were contacted to press charges against the women and their male companion for posting the video online causing "damage to the ancient site and the country".
Pranee Thareejian, 61, a souvenir seller at the ancient site said that she saw the two women and a man enter the temple.
The man was carrying a camera and took pictures of the women at the temple where the women danced, and the man recording them, said Thareejian.
The UNESCO World Heritage Site in Ayutthaya is a big tourist attraction.