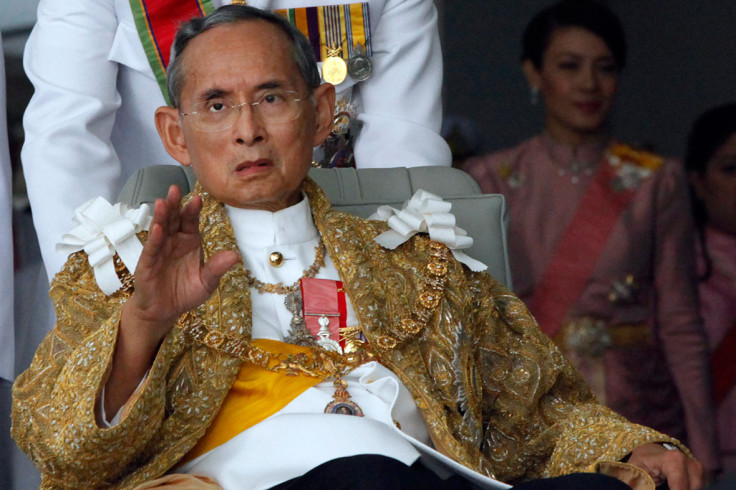 Thailand's King Bhumibol Adulyadej, 87, has been treated for excess fluid in his brain and also has a chest inflection, the palace said on Monday (10 August).
The Royal Household Bureau, which controls news about Thailand's royal family, said in its second official statement since the King was admitted to hospital in May that King Bhumibol had "water on the brain" or hydrocephalus, a build-up of the cerebrospinal fluid that surrounds the brain.
"Examination showed fluid in the brain had increased and a team of physicians asked permission to increase fluid drainage gradually of the brain and watch symptoms closely.
"An ex-ray of the royal brain on Aug 5 showed water levels had decreased to close to the original volume," the palace statement said, adding that treatment would continue until the levels are fully back to normal.
Reuters said that King Bhumibol left hospital on 10 May after seven months recovering following surgery to remove his gall bladder last year but was re-admitted weeks later for a check-up, according to the palace.
King Bhumibol has been reportedly suffering from poor health for some years. He made a brief public appearance in May at an event to mark the 65th anniversary of his coronation in Bangkok.
The world's longest-reigning monarch is highly revered in Thailand. He is also seen as a symbol of stability in the politically turbulent country which is now under military rule following a coup last year.
King Bhumibol was crowned on 5 May 1950 after taking power in 1946 following the death of his elder brother Ananda Mahidol, King Rama VIII of Siam. His brother was 20 years old when he was found shot dead in his bedroom in the Boromphiman Throne Hall in the Grand Palace.