From being a damsel in distress to becoming the Lady of Winterfell, Sansa Stark has indeed been through hell and back.
However, with her "badass" sister Arya by her side – complemented by Bran's visions – Sophie Turner's character delivered the perfect justice during Game of Thrones season 7 finale.
The night is dark and full of terrors and this article is filled with spoilers!
A day before the mind-blasting episode 7, titled The Dragon and The Wolf aired, Turner shared the cheekiest image with co-star Maisie Williams on her Instagram profile – something that fans have come to believe was a major clue to the finale.
"In honour of the Thrones finale out tomorrow night, and of 6 mill followers on instaaaa... here's da reel roadmans of westeros," HBO captioned the image.
The picture shows the Stark sisters Sansa and Arya suggestively posing in their traditional Northern attire.
But little did GOT loyalists know at the moment that the image could have a greater meaning in the light of the latest episode, where the show's greyest of characters aka Littlefinger finally met his doomed fate.
From starting a cold war between the Lannisters and the Starks (over Jon Arryn's death), Lord Petyr Baelish has also been instrumental, most recently in trying to turn Sansa and Arya against each other.
However, all his plans go in vain as the new Lady Stark orders divine justice – with Arya executing it by slitting Littlefinger's throat.
As a great piece of villainy comes to an end, fans couldn't be more thrilled, especially with the duo – Turner and William's – joint performance for the finale.
"If no words were to be exchanged but an image used to describe the Little Finger Finale... this is it," a fan of the fantasy show commented, summarising the ending and the feeling evoked by the photo. "Literally my favourite part of tonight's episode was Sansa and Arya bamboozling the bamboozler #SansaryaForever," shared another viewer.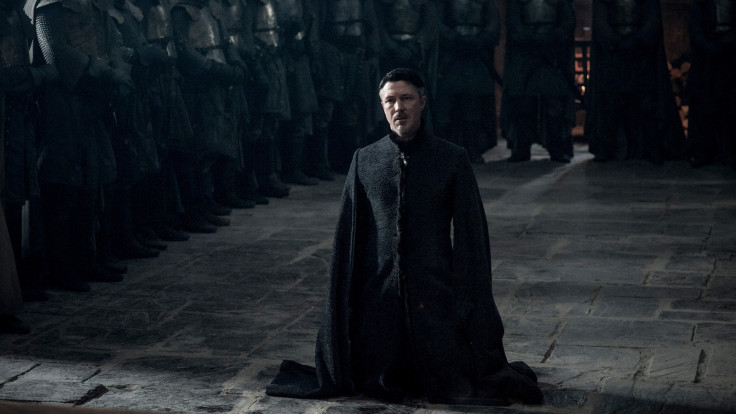 Meanwhile Stark loyalists seemed more than satisfied with Sansa and Arya's combined efforts, as one wrote, "Thank you for killing that bastard!"
Clearly, Sansa is not the timid little girl she was in the beginning of the series, and with each passing season she has only been growing as a character.
"That episode was crazy!!!! I can't wait to rub it in people's faces that Sansa is an amazingly strong, loyal, smart and lovable character," a fan shared echoing the general mix of feeling to see Turner take up stronger role in the final season 8 of Game of Thrones.