Revellers cheered and swigged bottles of booze as Margaret Thatcher's blood-smeared head was carried on a stick around Trafalgar Square, central London, on Saturday 13 April.
Several hundred people gathered in the evening to celebrate the death of the former Prime Minister, who died from a stroke on Monday, aged 87.
Drum and percussion groups provided the soundtrack for partygoers who cracked open bottles of champagne at what they dubbed "the party of a lifetime".
They danced around an effigy of former Conservative PM Thatcher and a model of her decapitated head caked with fake blood was thrust in the air.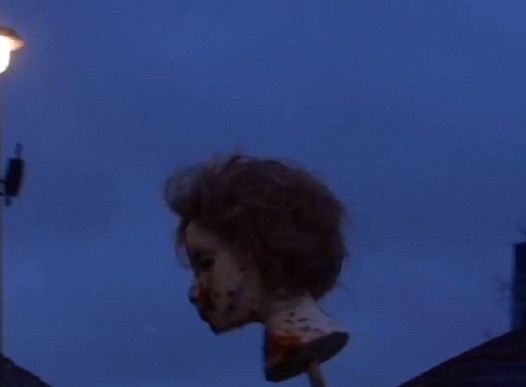 Chants of "Maggie, Maggie, Maggie: dead, dead, dead" rang out and 16 people were arrested for public order offences in isolated ugly scenes.
Opponents of austerity measures by today's coalition government rubbed shoulders with veterans of unions which fought against Thatcher's policies during the 1980s.
Death party revellers and a small number of football fans from Millwall clashed in the Square. The club was playing at Wembley on the same time in the FA Cup semi-final.
In line with other similar events since Thatcher's death, swathes of revellers looked too young to remember her Downing Street tenure, or the conditions in Britain which confronted her government in 1979.
Gatherings like the Trafalgar Square event have drawn criticism for dancing on the grave of the dead.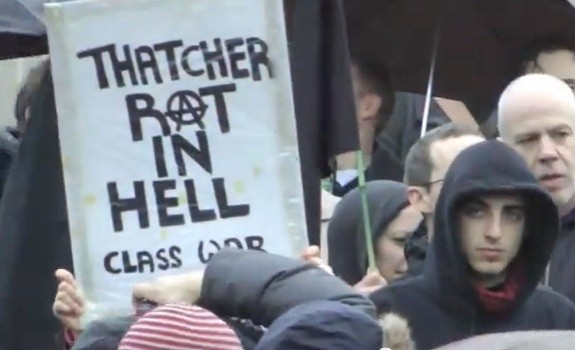 London Mayor Boris Johnson, a former Tory MP, rapped celebrations to mark her death.
Speaking ahead of the event, he said: "What they can't do is, I think, use the death of an elderly person to begin riot or affray or that sort of thing."
Calls have been made for a statue to be erected of Thatcher in Trafalgar Square. The central London landmark was also the scene of riots against the Poll Tax in 1990 - which convinced Tory party plotters she had to go.