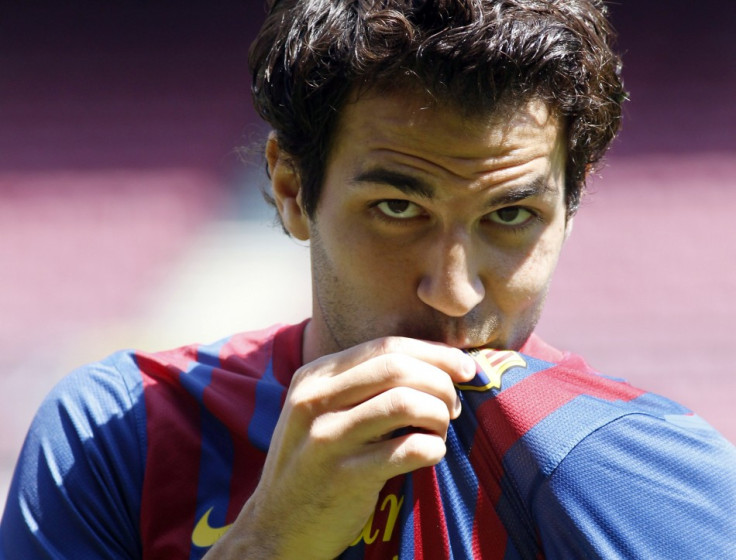 When Cesc Fabregas left Arsenal for Barcelona, he insisted that he would always have a special kinship with the club where he spent a third of his life, and now Theo Walcott has revealed he believes that while Fabregas was a star for the Gunners, he looks like he belongs with the Catalan giants.
Fabregas has been the subject of a great deal of transfer speculation over the past three summers, with Barcelona making their intentions very clear both publicly and privately to purchase the former skipper. Arsene Wenger fought the Champions League winners until the last fortnight of the 2011 summer transfer period, before he finally gave in and allowed Fabregas to move back to his native country.
Arsenal initially struggled to recover without their key midfielder, and along with the north London side losing Samir Nasri as well, they have endured their worst start to a season in over 50 years.
Fabregas has often made his ongoing affinity with Arsenal clear, despite defecting the club to return to his birthplace. The 24-year-old went so far as to threaten to sue a magazine recently for publishing comments attributed to himself saying that the Gunners are incapable of winning a trophy.
And in a further show of the closeness that Fabregas still has with his former teammates, Walcott has given praise back to the Spaniard. As Walcott prepares to face Fabregas tomorrow night, with the pair playing for England and Spain respectively in a friendly over the international break, the 22-year-old admits that he believes his former captain made the right decision signing with the Catalan giants.
"He was an absolutely fantastic player for Arsenal," Walcott said. "Throughout the years he went up so many levels.
"Now he puts on a Barca shirt and it just seems to suit him.
"He was fantastic for Arsenal but he has fitted into the Barcelona team so well, he's scoring goals and enjoying himself.
"It'll be nice to see him again but it will be weird playing against him."
Arsenal are adapting to life without the star, and seem to have recovered from their disappointing start to their campaign, winning six of their last seven matches.
Mikel Arteta, who was purchased by Arsenal as almost literally a last-minute replacement for Fabregas in the summer transfer window, is also looking more comfortable in a midfield role for the Gunners.
Fabregas meanwhile, has won as many trophies during his time with Barcelona than he did in eight years at Arsenal. The playmaker already has a UEFA Super Cup and Supercopa de España under his belt, and has scored seven times for the club so far this season.