Theresa May hints UK ready for transition deal with EU in run-up to Brexit
Prime Minister tells CBI conference her government wants an ambitious partnership with the EU.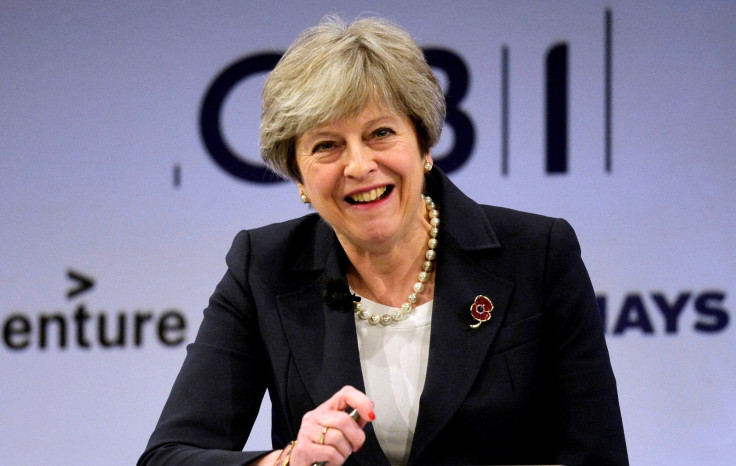 UK Prime Minister Theresa May has hinted that she would be in favour of a transition agreement with the European Union in the run-up to Brexit.
Addressing the Confederation of British Industry's annual conference in London on Monday (6 November), the PM said: "We want to want to forge a new ambitious relationship with the EU, but with a new balance of rights and responsibilities. I have made clear that a strictly time-limited implementation period will be crucial to our future success.
"During this period our relationship with the common market would continue as normal, but we should be free to negotiate trade deals with the wider world."
May added that she wants to agree "the detailed arrangements for this period as early as possible".
She said her Florence speech had received a positive response from the European Council, which had acknowledged "our generous offer" and the her team is preparing for the next stage of negotiations.
May also said that the UK can be "am immensely proud" about what it offer international investors, pointing to recent investment decisions by Google, Amazon, Toyota, BMW and Alexander Dennis into the British economy, all of which have come following the UK's decision to leave the EU.
"What we need is more cooperative partnerships between business and government. I believe the opportunities ahead for our country are enormous. Such investments are a vote of confidence in the UK's talent, skills and infrastructure."
May also said her government wants to build and an economy that's fit for the future, and that she did no believe in failed state interventions of the past. "Our deficit has been cut by over two-thirds, the economy has grown for 19 consecutive quarters, income inequality is at its lowest since 1986. We back innovators and growth creators and believe in a balanced approach to public spending."
To this effect, the PM revealed the government would publish its industrial strategy white paper later this month.
"Our approach to industrial strategy embraces technological change, and encourage sectors such as fintech and Artificial Intelligence where the UK is already a world leader."
May also tackled the fallout of the Westminster sex scandal head on saying she was working on "all party approach" to the "troubling issue."
"Parliament and Whitehall are special places in our democracy but they are also workplaces that should uphold standard. For too long the powerful have abused their power. Political parties have not got it right in the past, but I am determined to get this right in the future.
"We are working on a common robust and independent procedures which establishes a new culture of respect, where complaints can be brought forward without prejudice. We must stand up for all victims of abuse."