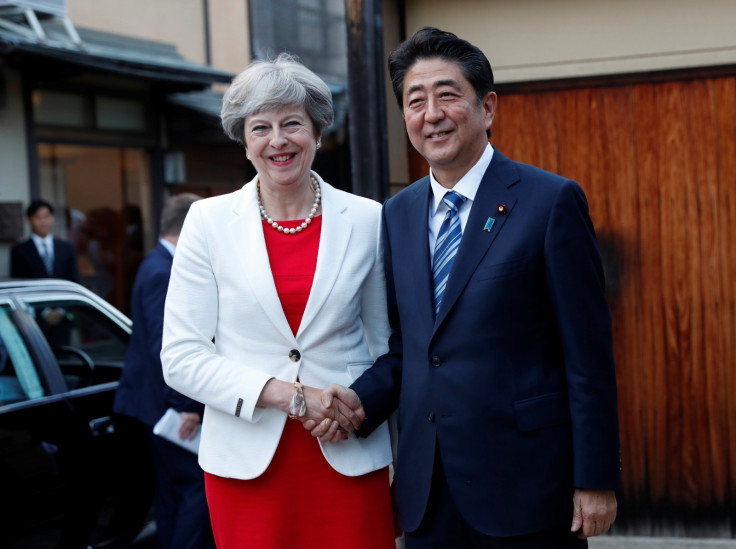 UK Prime Minister Theresa May has said she will continue to lead the Conservative party into the next election after reports she planned to step down.
Speaking to reporters during her trip to Japan, May told Sky News: "I'm in this for the long term because there's a long-term challenge for the UK." adding: "We need to get the Brexit deal right, deliver the right deal for the people of the UK."
She also emphasised that Britain would be "trading around the world", as a focus of May's trip to Japan is a post-Brexit trade deal.
Asked by ITV if she would be stepping down before the next scheduled general election in 2022, May said: "I'm not a quitter".
According to a Guardian report, May told reporters while in the air en route to Japan: "What I'm clear that I want to do is, yes, get on with the job of Brexit, but it's not just about Brexit.
"What I want to do is a lot more about the long term, which is about changes domestically, on issues like social justice."
May has faced criticism from within her own party after a snap election that saw the Conservatives lose their parliamentary majority and left the party having to do deals with the DUP.
May made the remarks to a number of reporters while emphasising that there were social injustices she would tackle to make a "fairer Britain".
While in Japan, the prime minister will also be discussing security issues with her Japanese counterpart, Shinzo Abe. After a North Korean missile flew over Japan, reports said that May had been told to follow the country's 'duck and cover' warnings in the event of another launch.
May said that she would "sit down with Prime Minister Abe over the next few days to discuss the action that North Korea has taken" and condemned the missile tests as "illegal", adding "we will be working with Japan and other international partners to ensure that pressure is put on North Korea to stop this illegal action."