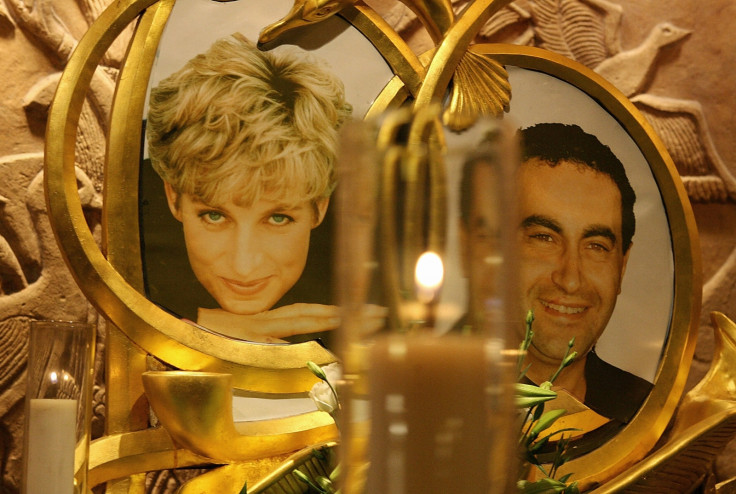 If you have visited Harrods, you may have noticed the bronze statue of Princess Diana and Dodi Fayed dancing beneath the wings of an albatross in the luxury department store's lower level. The memorial – erected by Fayed's grieving father and former Harrods owner Mohamed al-Fayed in 2005 – has attracted millions of people from across the world who wish to pay their respects to the late Princess of Wales and her final lover.
Fittingly called Innocent Victims, it stands as a constant reminder of one of the most tragic love stories in recent times. On 31 August 1997, Diana and Dodi and their drunken driver Henri Paul were all killed after their car crashed in the Pont de l'Alma road tunnel in Paris as they tried to flee from a chasing pack of paparazzi. Diana's bodyguard Trevor Rees-Jones, who was the only one wearing a seat belt, was the sole survivor.
On the eve of the 20-year anniversary of their tragic deaths, there has been a renewed interest in their brief and highly-publicised romance, which made headlines across the globe − mainly because he was an Egyptian Muslim. While most of the stories have focused on the People's Princess, it is important to remember the man who died alongside Diana.
Fayed, a 42-year-old film producer who worked on films including Chariots of Fire and 1986's F/X and 1980's Breaking Glass, started dating the Princess of Wales in 1997 although they had been friends since meeting at a polo match in 1986.
His father's wealth had afforded him opportunities that some can only dream of. He attended some of the most exclusive private schools in the world− Le Rosey in Switzerland and Sandhurst military academy−and mixed in the right celebrity circles.
Mark Fleischman's memoir, Inside Studio 54, even claimed that Fayed had a weakness for "amazing cocaine", and sneaked into unlicensed gay clubs with his celebrity pals. He became a familiar face on the nightclub scene and was a well-known womaniser.
Although he was romantically-linked with various female celebrities, including Brooke Shields and Winona Ryder, it was model Suzanne Gregard who he took down the aisle. However, it was not meant to be and they divorced in 1989 after just eight months of marriage.
By the time he started dating the most photographed woman in the world in the summer of 1997, he had left his playboy days firmly behind him and a "Thank you for not smoking" sign hung inside his Park Lane flat.
Fayed called off his engagement with American model Kelly Fisher and enjoyed a break on his father's yacht, Jonikal, in the south of France with Diana before they headed to Paris for what was meant to be only one night. After a dinner at Mohamed Al Fayed's Ritz hotel in Paris, tragedy struck.
His tycoon father Mohamed recently revealed that he was still struggling with the loss of his eldest child, whose mother was Samira Khashoggi - sister of formidable Saudi Arabian-born billionaire arms dealer Adnan Khashoggi. The 88-year-old told The Sunday People: "It is a particularly difficult time for my family and I. The reality is we suffer grief every day of our lives."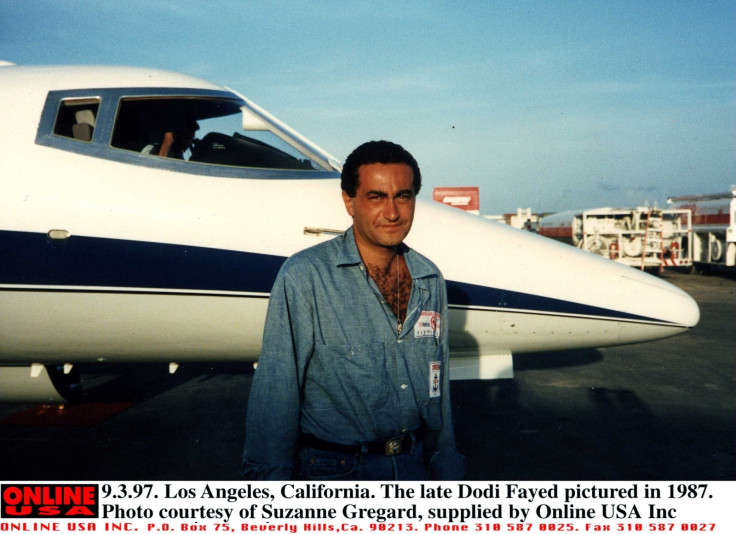 Al-Fayed still believes that the pair were just hours from announcing their engagement plans, despite reports that the true love of Diana's life was Dr Hasnat Khan, a British Pakistani heart and lung surgeon who broke her heart.
"Princess Diana trusted my son and he became a shoulder to lean on at a troubled time in her life," he explained. "Dodi wanted to be a safe haven for her and her boys. Our hearts go out to her sons. They lost a devoted mother and a wonderful human being."
Al-Fayed's bereavement has been so profound that he took on the royal family by sensationally claiming that Prince Philip had ordered secret service operatives from MI6 to engineer the crash to prevent the mother of the future king of England marrying a Muslim. He even funded a £2m documentary - which was never aired - claiming that the Duke of Edinburgh had a connection to Nazi Germany.
During the 2007 High Court inquest of Diana and Dodi's death, Al Fayed's lawyer alleged that the Duke had described Dodi as "an oily bed-hopper", but former butler Paul Burrell insisted it was "unlikely" the Duke of Edinburgh would use such a phrase.