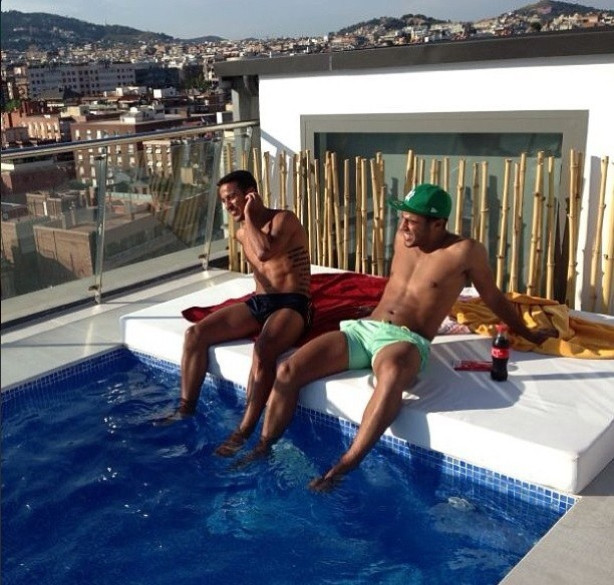 Manchester United's hopes of signing Thiago Alcantara have suffered a blow after the Spanish midfielder declared his love for the city of Barcelona.
Thiago, who has just returned from a holiday, uploaded a picture that shows him sunning himself in the Catalan city with brother Rafinha.
In the picture, posted on Instagram, Thiago and Rafinha can be seen lounging by a pool on the roof of the exclusive Cuidad Condal hotel.
Alongside the picture, Thiago tweeted simply: "I ❤Barcelona."
The picture attracted hundreds of comments from supporters of both Barca and United, urging the Spain under-21 star to commit his future to their respective clubs.
However, despite the obvious allure of Barcelona and its climate, reports still suggest United are on course to complete the transfer of Thiago within days.
According to Goal.com, Thiago will meet with Barca officials on Tuesday and confirm that he wants to leave the club and join United, where he is likely to get more playing time.
It is also reported that United have offered Thiago £120,000 a week, three times his current salary at the Nou Camp. Some sources even suggest the player's father and agent, Mazinho, has already agreed terms with the Old Trafford club.
However, despite the money and first-team opportunities on offer at Old Trafford, Thiago has yet to declare any intention to leave Barcelona, the club he has played for since 2005.
Rafinha, with whom Thiago is known to be close, has recently signed a long-term contract to stay at Barcelona, although he will be loaned out to Celta Vigo next season.
Thiago's buy-out clause was originally set at €90m, but it has fallen almost sixfold because Barca boss Tito Villanova failed to give the 22-year-old enough matches during the 2012-13 campaign.
Many Barcelona fans have vented their frustration on forums, demanding Villanova be sacked - even though the squad is packed with star midfielders including Xavi, Andres Iniesta, Sergio Busquets and Cesc Fabregas.