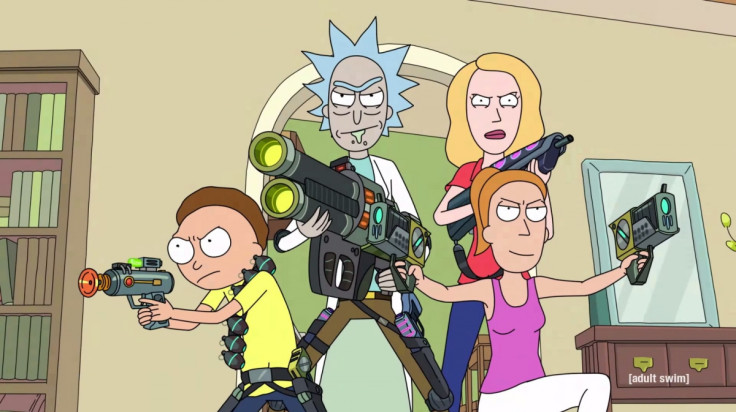 Rick And Morty season 3 premiered on 1 April as a reverse April Fool's Day prank, and fans could not be more happier. The official account of the hit Adult Swim animated series confirmed the news on Twitter.
The tweet that includes the live stream link read: "New Episode of RiCK AND MORTY airing NOW thru MIDNIGHT (ET/PT) and ONLINE at http://www.adultswim.com/streams." In the other tweet, the producers addressed the confusion among fans. The post read, "Happy to have confused the world today. Or at least North America."
The premiere episode is currently available on Adult Swim's streaming website. Episode 1 titled The Rickshank Redemption, opened with Rick and his family at Shoney's, where he is narrating the story of how he escaped from the Galactic Federation prison.
However, fans were surprised to find out that he was actually tricked by the Federation, but later it was revealed that Rick knew that the Galactic Federation was tricking him and he went along with it.
The scientist also shows them his origins story, wherein he revealed that the death of Beth's mother was linked to his creation of the portal gun. Fans finally get a glimpse of Beth's mum as the parallel universe Rick gives him the portal gun which blows up and kills his wife.
However, he soon made a shocking confession and revealed that he had made the entire story up. Beth's father then says, "You can alter anything you want about a totally fabricated origin story."
The episode also gives fans a glimpse at life on Earth under the Federation's rule. Meanwhile, Jerry claims that he loves the world that's controlled by the Galactic Federation as he feels like he's getting paid a lot to do nothing. Yet, Summer and Morty turn into rebels to fight against the Federation.
Nonetheless, Rick finally succeeds in escaping the Galactic prison, but lands in the Citadel of Ricks and kills anyone who stands in his way. He reveals that his plan all along was to zero out the value of the Galactic Federation's money so that aliens turn against each another.
Following this, the Federation leaves Earth, leaving Jerry behind as Beth chose to divorce him and stay with her father. However, in the final scene, Rick tells Morty that since Jerry is gone, he is now the patriarch and he plans to rule and order everyone around. He tells his grandson that things are going to get darker.
Also, Birdperson who died in season 2 finale is back. Tammy somehow turned him into a cyborg, created by the Galactic Federation and now he is under their control. Rick And Morty season 3 will return with its regular episode this summer on Adult Swim.