In a bid to outsmart claims by Apple and Microsoft that their iPad and Surface tablets are the future of writing, Sony has launched a massive e-ink tablet with an equally large price.
The snappily-named DPT-RP 1 is a tablet with a 13.3in e-ink display that, unlike the e-ink screen of your Kindle, can be written and drawn on with an included stylus.
Anything scribbled on the screen can be saved and transferred to another device, and through an app users can load documents, forms, charts and presentations onto the tablet, ready to be annotated.
The only drawback here is that the tablet only works with PDFs. Sony's new Digital Paper app can convert files into PDFs, so getting content onto the screen shouldn't be too tricky, but this means you can't fill it up with ebooks. This is primarily a tool for work, not pleasure.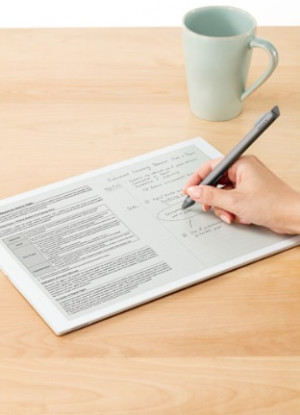 Although the DPT-RP 1 and its terrible name might look alien to Western markets, it is an update to a similar device already on sale by Sony, the DPT-S1.
The new model has the same screen size as its predecessor, but boasts a sizeable resolution increase from 1200 x 1600 to 1650 x 2200. Battery life is claimed at three weeks.
At 5.9mm thick, Sony says the e-ink tablet is about the same thickness as a pad of 30 sheets of paper, while the 224 x 303mm footprint is about the same as a 13in MacBook Pro. Inside there's 16GB of storage, plus Wi-Fi, Bluetooth and near-field communication.
Due to its left-field design it perhaps shouldn't come as a surprise that Sony will only be selling the DPT-RP 1 in its native Japan, where it goes on sale on 5 June for an eye-watering 80,000 yen (£580).