This is the 'All New HTC One' as 2014 Model Leaks Ahead of Official Launch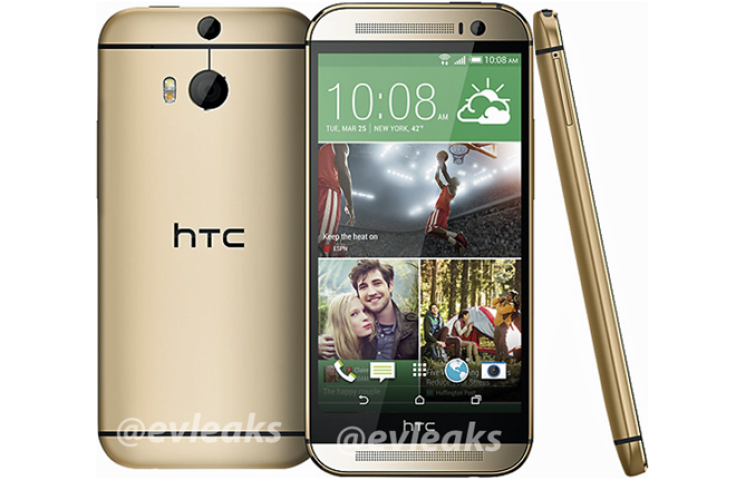 A leaked image of the all new 2014 version of the HTC One smartphone has leaked ahead of its launch next month.
The image comes courtesy of serial leaker @Evleaks who has a track record of breaking details of smartphones and tablets well ahead of their launch.
The image posted on Twitter shows a gold model which is not too dissimilar to the original HTC One which was launched 12 months ago. The leaked image seems to confirm the presence of a second camera sensor on the rear which is said to improve focus times as well as light metering.
An earlier tweet from @Evleaks said the phone would not be called the One+, M8 (an internal codename) or the HTC One 2, but would instead be called the "All New One" and it will be available in silver and grey as well as the old option seen here.
HTC announced earlier this week that it would be holding a press event in New York on 25 March where it is widely expected to launch the updated HTC One.
Codenamed M8, the phone is expected to have a larger 5in screen with a 1080p Full HD resolution and be powered by a 2.5 GHz quad-core Snapdragon 800 processor from Qualcomm.
The phone will likely come with the latest version of Google's operating system, Android 4.4 (KitKat) but this will be heavily skinned with HTC's own interface, which features BlinkFeed, a new way of organising your content in one endless feed.
HTC's launch is likely to be the second major smartphone launch of 2014, coming after Samsung launch the Galaxy S5 next Monday at Mobile World Congress.
The original HTC One won plaudits from reviewers and customers around the globe, but it didn't sell in significant enough numbers to half HTC's plummeting revenue, with the company recording its 27th consecutive month of falling sales in January.
© Copyright IBTimes 2023. All rights reserved.