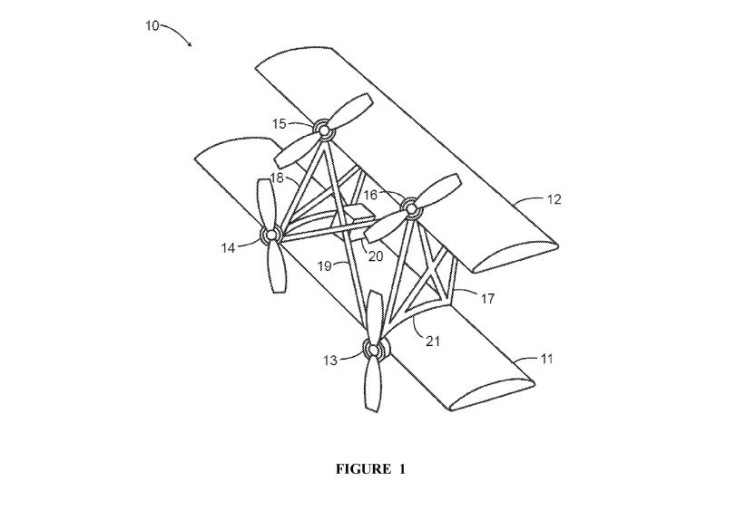 A Silicon Valley start-up that hopes to beat Larry Page's flying cars to the market has won a patent for a biplane-like vertical take-off and landing (VTOL) vehicle. Joby Aviation, which is competing directly with Page-funded companies Zee.Aero and Kitty Hawk, is reportedly working on an aircraft that could take off in confined areas without the need for a runway.
The patent, spotted by the East Bay Times describes an aerial vehicle that could be controlled by AI or a human pilot. One design depicts a craft with two sets of wings with propellers fixed to the frame, while another more closely resembles a typical fixed-wing drone.
The document describes a vehicle that would take off with its wings in a vertical position and then manoeuvre into a horizontal flight path. The vehicle's engines would also rotate relative to the position of the wings for VTOL and forward flight accordingly.
The term "flying car" isn't used specifically: rather, the patent appears to be outlining a thrust and wing configuration that could potentially be used for manned or unmanned UAVs. Still, given that Joby Aviation is developing VTOL aircraft specifically for personal transport, it's doesn't take much to put two and two together.
It was revealed in June that rival flying car companies Zee.Aero and Kitty Hawk, also based in Silicon Valley, were personally funded by Larry Page. The Google co-founder is said to have invested more than $100m (£70m, €89m) in the firms, both of which are thought to be working on personal VTOL vehicles.
Another flying car player, PAL-V, plans to have its own, two-man flying car in consumers' driveways within the next 2-3 years. The PAL-V One can reach speeds of up to 112mph on both land and in the air and can fly at an altitude of 4,000 feet.