This Russian couple's pet cougar has become an internet sensation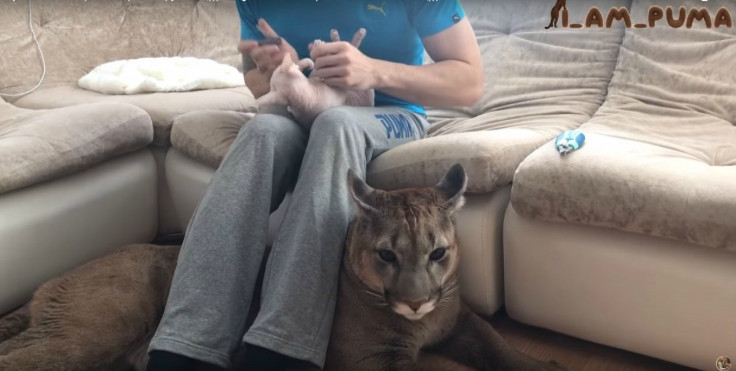 KEY POINTS
Messi the cougar lives in a small flat in Penza, Russa, with his adopters Alexandr and Mariya Dmitriev.
They describe him as being like a dog and even refer to him as "kitten".
A Russian couple who adopted a wild cougar have grown a huge social media following thanks to an Instagram and YouTube account which tracks their daily activities together.
Alexandr and Mariya Dmitriev adopted Messi in 2016 after seeing him at their local zoo and speaking to his keeper. They then homed him in their small flat in Penza, RT reported.
Known as 'I_am_puma' on social media accounts, the now two year-old cougar has accrued 303,000 followers on Instagram and over 26,000 subscribers on YouTube.
Alexandr Dmitriev told RT, "he is like a dog. We started taking him for a walk, step by step. The animal hadn't been really active before [but] now we walk a lot, twice a day, as it's supposed to be. It doesn't differ much from owning a dog in this sense," and added that him and his wife call him "kitten".
Their videos include everyday events such as cutting his nails, frolicking in the snow and giving him a bath.
The couple feed Messi twice a day with a diet consisting of turkey, beef, a bit of chicken breast and some bones.
"We live together, sleep together" he told Barcroft. "He convinced us with his behaviour that he's a full member of our family and that he wouldn't be doing anything bad apart from some small naughty things. He's very kind and likes contact. He gets on very well with people."