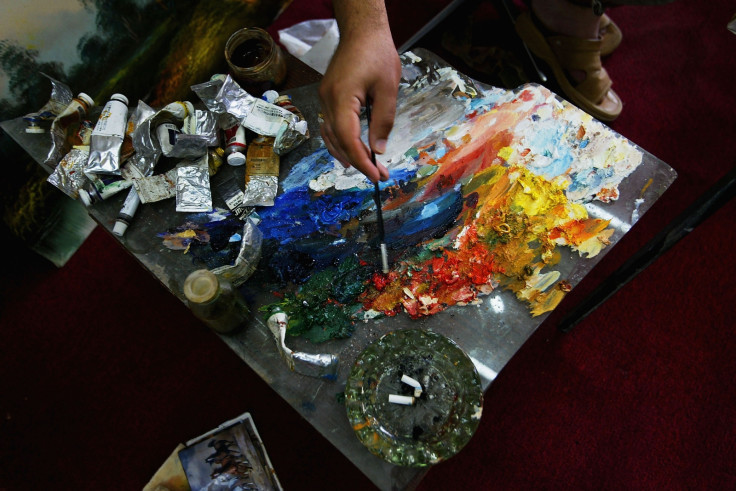 A teenage student who painted a "sexually explicit" piece of artwork has been left fuming after her school decided to cover the piece in censorship stickers.
16-year-old Megan Angus had submitted the work as part of her GCSE art class only to discover her school had slapped 'censored' stickers over certain elements. Two females kissing was covered, so was the waistlines of women in the piece. Guisborough's Laurence Jackson School claims that it was to protect other students.
In a public Facebook post, Megan condemned the school's actions. "Can't get more of a homophobic school that Laurence Jackson School sticking censored allover my work not getting my permission (sic)," Megan wrote. "Not the first time for that school ruined my work I spent 40 hours on thanks a lot."
Speaking to Gazette Live, Megan said she could not understand the school's actions. "I can't see why they censored it," Megan said. "When you go to an art gallery, they don't censor them there. I wanted my work to be shown how I left it."
"I did same sex relationships as they seem to be out of place in society. I wanted to get across that it shouldn't be frowned upon and it shows girls can be together. It is something I feel passionate about."
A spokesperson for the school said it was censored for being graphic, not because it was homosexual. "Due to the sexually explicit nature of some of the drawings in the student's work, a censored strip of paper was Blu-tacked over these areas," the spokesperson told Gazette Live.
"As a secondary school, we needed to be mindful of the impact this may have on younger students. In no way was she discouraged from producing work of this nature and her artistic talents were celebrated by our department."
Megan has since left school and no works as a life guard. She returned to pick up her art work, which earned her a B.