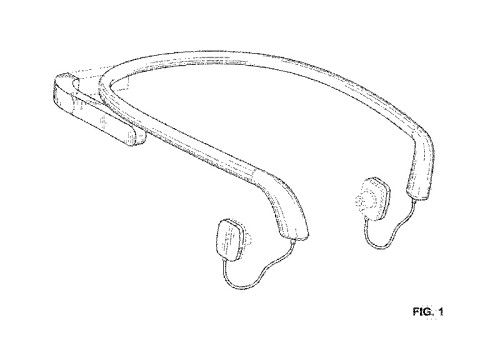 The US Patent Office has granted a new patent for a "wearable display device" that looks just like Google Glass and is thought to be the consumer version of the controversial wearable headset.
The design in the patent seems to show a larger, slightly bulkier frame than the $1,500 (£902, €1,096) Glass Explorer edition that was released in April 2013 to a limited number of developers to test out.
The image of shows a headset featuring the recognisable Glass unit sitting at the front including the prism which projects images directly into your eye.
Thje image also shows that Google has removed the bone conducting section of Glass and replaced its with dual earbuds. The original version of Glass used bone conduciton technology to transmit sound to the user.
Earbuds
The second edition of the Glass prototype did include a a mono earbud but it is expected that Google will include dual earbuds in the consumer edition.
The patent doesn't mention whether the earbuds will be removable.
The patent, which lists the inventor as Google Glass' lead designer Maj Isabelle Olsson, was originally filed by Google on 19 July 2013, and only granted by the US patent office three days ago.
At the Google I/O 2013 developer conference, Steve Lee, the product director for Google Glass, stated that the consumer version of the Glass would be much more polished than the Glass Explorer version.
Google has also stated that the consumer version will be much cheaper than the Explorer version. The consumer edition of Google Glass is expected to launch at some point in 2014, together with a dedicated app store rumoured to be called Boutique which will include many more apps than are currently available.
Although Google Glass is still in its early prototype stages, the device has already caused as much controversy as interest.
Amid privacy fears stemming from its camera, the device had already been banned from select cafes, casinos and cinemas before the AMC cimena chain this week branded Google Glass use as 'inappropriate' after a man was removed from a film by US authorities this week.
A driver in the US was also issued with a traffic ticket for speeding and driving while wearing Googlle Glass in October 2013, though she had her case dismissed by a San Diego court last week.