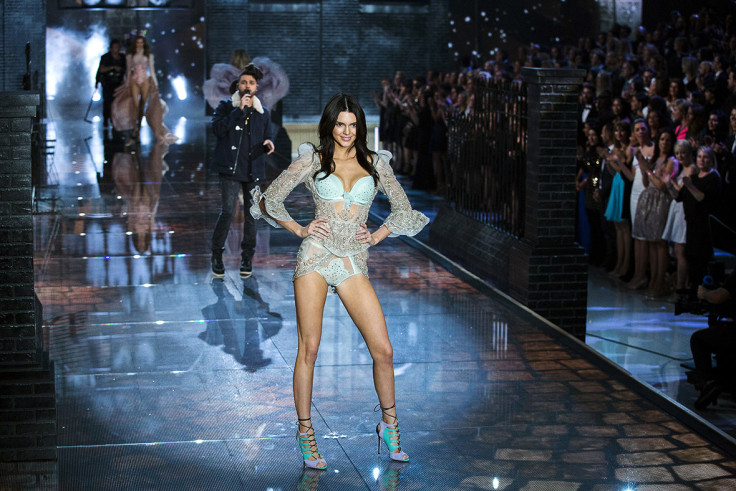 Kendall Jenner fans were hoping that the model would announce that she was walking in the Victoria's Secret show closer to the date after the initial names were announced, in true supermodel fashionably late style.
But it looks as though the 21-year-old – who dreamt of being a Victoria's Secret angel since she was a small child – is throwing in her wings already.
The reality TV star-turned-catwalk strutter is apparently not going to star in the upcoming event, with TMZ reporting that it is because of her multi-million dollar deal with rival lingerie giant La Perla.
Jenner achieved her ultimate dream by walking the Victoria's Secret runway in 2015 and 2016, but is now the face and body of La Perla's opulent Fall/Winter 2017 campaign where she lays among abundant portions of fruit and plants while wearing the brand's designs.
Kim Kardashian's half-sister made her debut with the luxury retailer earlier this year and closed La Perla's Fashion Week presentation in February.
But Jenner's deal with La Perla is said to include a non-compete clause, meaning she can't parade in Victoria's Secret underwear whilst promoting a fellow lingerie company.
There's no doubt Kendall will be feeling a little left out as her famous VS pals including Gigi and Bella Hadid, Stella Maxwell, Sara Sampaio, Alessandra Ambrosio, Adriana Lima and Behati Prinsloo are all confirmed to be heading to Shanghai for the big show which airs on 28 November.
Jenner shouldn't be too worried about missing out, since she was recently dubbed the Daily Front Row's Fashion Icon of the Decade, ahead of the fifth annual Fashion Media Awards on 8 September. This caused confusion and anger among many people since Jenner was only 11 years old a decade ago.
One person wrote on Twitter: "Ummmm no offence but Kendall Jenner receiving the fashion icon of the decade award is absolutely ridiculous and insulting. Wtf........"
Another put: "Everyone knows I think she's beautiful. But Kendall Jenner to be honoured with the Fashion Icon of the decade award is ridiculous."
Vogue claimed that Jenner is a model in a movement dubbed "the Instagirl era", where models are chosen for their online presence and social media following – which makes sense when she boasts 83.1m followers on Instagram.
Jenner – who is also the face and brand ambassador for cosmetics brand Estee Lauder – made her debut at number 16 on Forbes magazine's 2015 list of top earning models, with an estimated annual income of $4m (£3m).