Thomas Vermaelen insists that the arrival of Manchester United and the proposed guard of honour for the newly crowned champions will not prey on the minds of his Arsenal teammates.
Sir Alex Ferguson's side travel to the Emirates Stadium this Sunday for their first game since sealing their 20th Premier League crown following their 3-0 win over Aston Villa last Monday.
To add to the occasion, Sunday's match will also bring Robin van Persie back to his old club for the first time since his he left the Gunners for United last summer, a move which earned him the ire of Arsenal fans everywhere.
But the Arsenal captain isn't too concerned with the fanfare that will accompany United and Van Persie's arrival in north London, with his eyes firmly fixed on getting three points to accelerate the club's Champions League aspirations.
"While we will congratulate them, we cannot worry too much about that," Vermaelen told Arsenal's official match day programme.
"The first thing is always look at yourself and how you are going to perform, so I don't see it as a big deal that they have already won the title. Both teams are hugely competitive and will want to win the game, so we'll need to be at our best.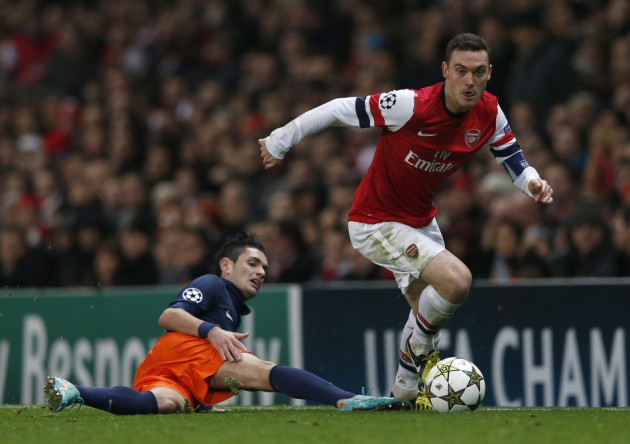 "Everybody here wants to what United have done, we are all ambitious and have a big desire to win titles. We want to be doing it every year, and the drive is within all of us. "
While recent fixtures between Arsenal and United may have lost some full blooded ferocity that defined their rivalry in the late 90's, Sunday's game shows no signs of being a casual affair for either side.
With a record Premier League points haul now in his sights, Sir Alex Ferguson has no intention if fielding a weakened side, also insisting that the club have a "duty" to other clubs in pursuit for a coveted Champions League spot to go for the win.
With just two points separating third placed Arsenal and fifth placed Tottenham Hotspur, and with Gunners having played a game extra, there is little room for error.
The Gunners are hampered by Olivier Giroud's suspension which will see him missing for the next three games, but Theo Walcott is hoping the Frenchman's absence will see him given the opportunity to spearhead the club's Champions League charge.
"There are four games left now and it is not the time to think about myself," the England international, who's only other previous goal against United came in their dismal 8-2 loss at Old Trafford last season, told the club's website.
"I set a 20 goal target for the season and only need two more to reach it, but the biggest goal for me is to help Arsenal finish fourth.
"That said, I'd be perfectly happy with a goal against United to kick off a great end to the season."