Thousands attend anti-Trump rallies on the eve of historic inauguration
Michael Moore, Robert De Niro, Mark Ruffalo and Al Sharpton joined the marches.
Thousands of protesters have gathered in New York City to send President-elect Donald Trump "a strong message" on the eve of his inauguration.
Led by filmmaker Michael Moore, dozens of prominent anti-Trump celebrities were in attendance outside Trump Tower to voice their concerns about the incoming president.
Among them were figures such as Robert De Niro, Mark Ruffalo, Alec Baldwin, Reverend Al Sharpton and New York City Mayor Bill De Blasio.
Moore called on people to engage in civil disobedience to resist Trump's "fascist" policies.
"A malignant narcissist and a sociopath is in the oval office," Moore said. "This is a very dangerous moment.
"So when they come to New York to take our Mexican neighbours out of here, who's willing to stand in front of the George Washington Bridge and say, 'Not unless you go through me.'
"Who will stand at the Lincoln Tunnel or the Holland Tunnel and say, 'No, no, this is the United States of America. No.'
"If he tries to put up a Muslim registry, where Muslim Americans – key word, Americans, are supposed to sign up, I will be the first one to sign up on the Muslim registry. Who will join me?"
Moore called for "100 days of protest" against Trump as he starts his presidency.
Trump opponents have been angered by his comments during the campaign about women, illegal immigrants and Muslims and his pledges to scrap the Obamacare health reform and build a wall on the Mexican border.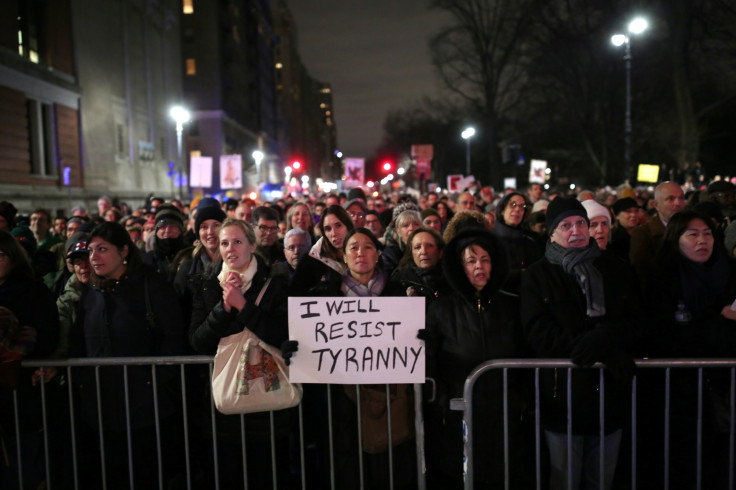 There were also anti-Trump protests in Washington DC at the National Press Club, where supporters of Trump met for a pre-inauguration ball.
Anti-Trump protestors dubbed the gathering the Deploraball, in reference to Hillary Clinton's campaign trail description of Trump supporters as a "basket of deplorables", a remark which she later apologised for.
Unconfirmed reports on social media stated there were outbreaks of violence at the rally and that police officers fired tear gas in response.
Security in the US capital has been severely ramped up ahead of the inauguration as dozens of protest have been planned.
More than 900,000 – both Trump supporters and opponents – are estimated to have travelled to Washington for the swearing in of America's 45th president.
US Department of Homeland Security Secretary Jeh Johnson said police aimed to keep groups separate, using tactics similar to those employed during last year's political conventions.
"The concern is some of these groups are pro-Trump, some of them are con-Trump, and they may not play well together in the same space," Johnson said on MSNBC.
© Copyright IBTimes 2023. All rights reserved.