The International Committee of the Red Cross (ICRC) has released a report on Thursday (9 March), saying that despite a deal between Revolutionary Armed Forces of Colombia (Farc) and government; thousands of people are falling victims to violence.
The report has also said that the government should take strict action to curb rape, killings and torture. However, the report has warned that it would take decades for the Colombian authorities to deal with the direct and indirect consequences of the conflict.
The peace agreement between the two parties was signed in November in Bogota, which ended the deadly 52-year-old conflict. The Red Cross report said violence decreased in 2016 as a result of the peace pact, but "it is important to recognize that civilians are still paying a heavy price".
"The tragedy of missing loved ones, the fear of unexploded ordnance, armed violence in urban settings, threats, the restrictions on the movements of whole communities in areas controlled by armed groups, and displacement within cities – these all point to there still being a long way to go in Colombia," Christoph Harnisch, the head of the committee in Colombia, said.
"The peace agreement will not be enough to bring the violence in Colombia to an end. Building a country at peace requires everyone to make an effort and can take decades," he added.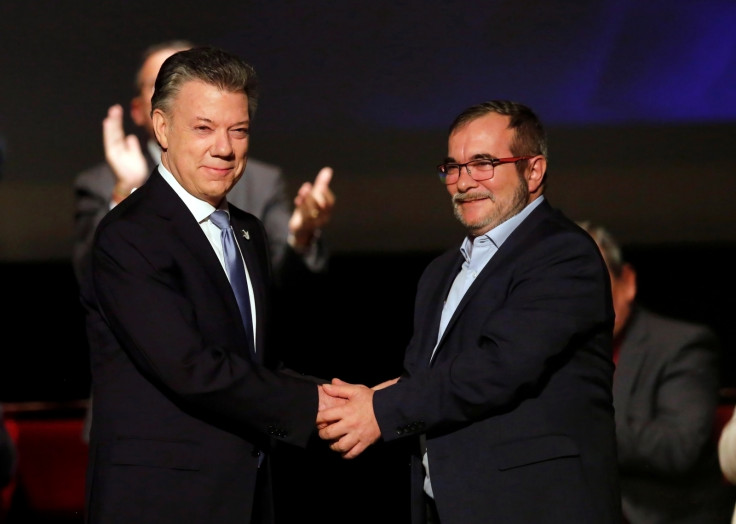 In the report, Red Cross has also asked the government to make extra efforts to help Farc child soldiers leave the group, clear landmines and tackle urban violence. It added that there is an urgent requirement to take action and address the country's prison crisis.
"In 2016, the conditions of detention of people deprived of their liberty in Colombia did not improve.
"In some cases they actually deteriorated, which illustrates a lack of action by the authorities to meet the needs of some 119,500 detainees nationwide," Nazim Ayadat, who coordinates the ICRC's detainee-welfare activities in Colombia, said.