After wreaking havoc in Queensland, Australia, Cyclone Debbie continued towards New Zealand, pounding cities in its wake and leaving a few of them flooded as rescue workers evacuated thousands of people on Thursday (6 April).
Jet boats, helicopters and tractors were being used to move around 2,000 people to safety from the Bay of Plenty town of Edgecumbe in New Zealand's North Island after a nearby river breached its banks and the water flooded homes.
Meteorologists said the region was experiencing a once-in-500-year event.
According to local media reports, a state of emergency has been declared in Whakatane District in North Island.
The former category four storm caused floods and battered Australia's Queensland and New South Wales states last week. The storm killed at least six people in Australia, destroyed tourist resorts and cut off electricity supply.
Massive storms were expected to hit New Zealand's South Island on 6 April.
No deaths have been reported so far in New Zealand, but authorities are reportedly searching for a missing man in floodwaters near the swollen Waikato river.
Several roads were closed or blocked by landslips across the North Island following two days of torrential rains, Reuters reported.
New Zealand's Deputy Prime Minister Paula Bennett warned the residents of Edgecumbe that there was still the potential for loss of life in the town.
"Under no circumstances should people be looking at going back at the moment," she said. "The message must be really clear to people right now: Get out and stay out."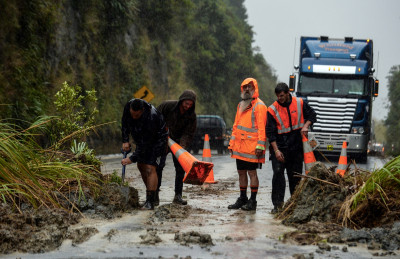 Hundreds of homes have already been flooded in Edgecumbe where water levels reached 2m (6.5ft) in some areas. At a few other places in the Bay of Plenty region, up to 250mm of rain was recorded since 4 April, the New Zealand Herald reported.