Thousands protest against government job cuts in Argentina
Thousands of state employees have been fired since President Macri took office in December 2015.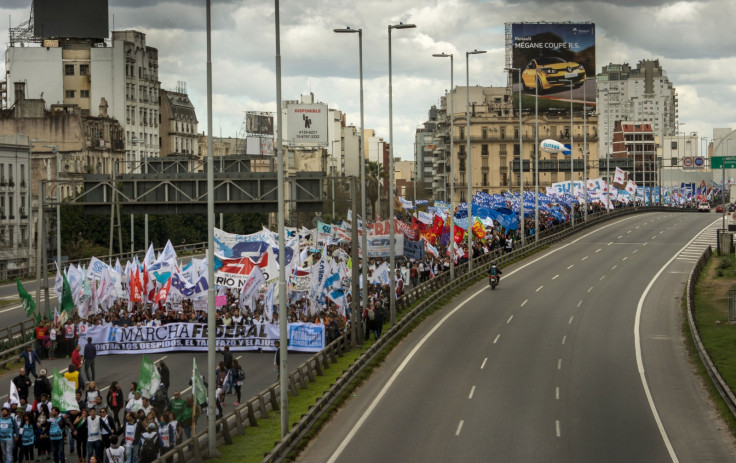 Tens of thousands of people have protested against government job cuts in Argentina on Friday (2 September). Demonstrators holding blue and white Argentinian flags assembled in front of the presidential palace to voice their anger against the abolition of subsidies and other policies.
"If they don't hear our clamor, if they don't give us answers, there will be a social conflict. If they don't listen to us, sooner or later, there will be a nationwide strike," Pablo Micheli, secretary general of the Argentinian Workers' Union, said following the three-day demonstrations.
According to reports, President Mauricio Macri has fired thousands of state employees since he took office in December 2015. Macri had said he was cutting jobs and subsidies to control excessive spending.
The actions were required to revive the country's fragile economy that has led to years of soaring consumer prices, Macri had reasoned.
But the initiative taken by the president has spread unrest in a nation with a long tradition of providing liberal state jobs and benefits. According to unions and human rights groups, employees are being erratically fired while the people of the country continue to lose purchasing power to one of the world's highest inflation rates.
"This is the response of social sectors that feel harmed. The poverty and the economic recession can be seen on the streets," Mariel Fornoni, who heads the Buenos Aires-based Management & Fit consultancy, said.
This is not the first time Argentinians have taken to the streets against government "atrocities". In April, two main labour unions — the General Confederation of Labor of the Argentine Republic (CGT) and The Argentine Workers Central (CTA) — had called for a protest against the government's spending and public sector job cuts.
© Copyright IBTimes 2023. All rights reserved.