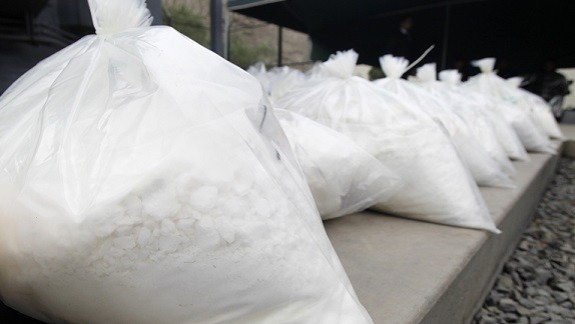 Three Britons are among nine people arrested following the discovery of 1.3 tonnes of cocaine on an Air France flight.
The record haul, estimated to have a street value of £170m (€200m; $273m) was found on a flight from Venezuela's capital Caracas to Charles de Gaulle airport in Paris.
The three British men have been arrested along with three Italians and thee Venezuelan Police National Guard officers in connection with the haul.
Venezuelan officials said that a first sergeant, a second sergeant and a first lieutenant will be charged in connection with the incident, without giving further details of the alleged offences.
The record haul was discovered by police packed into 30 suitcases on 10 September but was not made public until 22 September.
Police said the drugs were stashed in suitcases registered under false names that did not correspond to passengers on the flight.
French interior minister Manuel Valls said: "This marks the biggest seizure of cocaine ever made in mainland France as part of a judicial investigation."
French police cmdr Mohamed Douhane added: "Such a seizure, in such circumstances, is quite simply exceptional."
Air France said they are now investigating how the smugglers managed to get the drugs on board their flight.
The airline said: "Pending the results of these investigations, immediate measures have been taken to enhance our checks of baggage and goods on departure from certain sensitive destinations."