Matadors Brutally Gored by Bull at Madrid Bullfighting Festival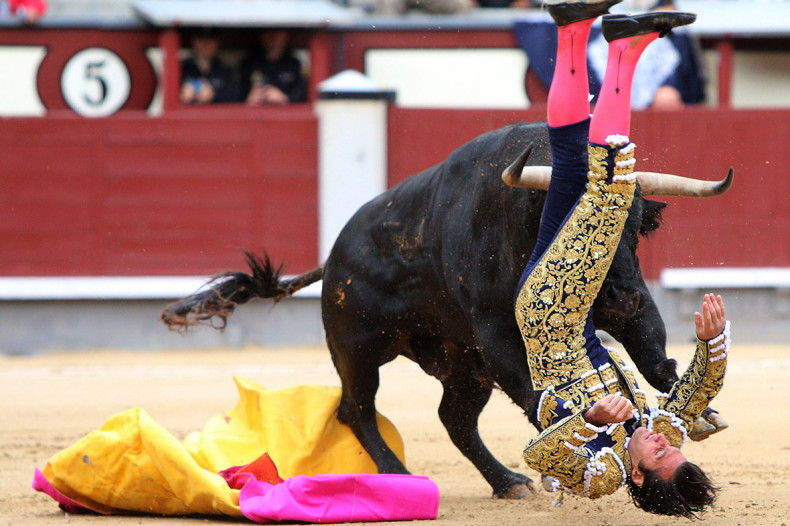 Horrified spectators looked on as three matadors were gored repeatedly at a bullfight.
The incident occurred on Tuesday (May 21) at the Las Ventas bullring during Madrid's San Isidro festival.
The event was cancelled for the first time in its 35 year history after the fighting bull left three matadors with serious injuries.
Opening the event, 33-year-old torero David Mora suffered the worst injuries as the 532 kgs bull rammed him in the leg with his horns and tossed him in the air, then proceeded to pummel him into the ground.
Two other matadors attempted to separate the bull from Mora and in doing so, also suffered serious gorings.
The medical team at Las Ventas reported that Antonio Nazare, 29, suffered "injuries to his right knee with probable ligament damage," after being caught on the bulls horns.
As he was carried from the ring, a third matador, Saul Jimenez Fortes, 24, confronted the raging animal, only to suffer the same fate as the bull pierced his thigh and his hip.
Spanish newspaper El Pais described the incident as "horrific, shocking, chilling".
After two hours of surgery and blood transfusions to replace two litres of lost blood, Mora was said to be in a "serious but stable" condition. The injuries suffered by his two fellow bullfighters were described as less serious.
2,000 bullfights are held in Spain every year and the tradition dates back to Roman times.
Fans of the tradition include Prime Minister Mariano Rajoy who hails the practice as an ancient art form deeply rooted in national history.
International animal welfare groups have condemned the bloody sport as barbaric, with Catalonia becoming the second Spanish region after the Canary Islands to ban the tradition.
Last year, Spain's congress granted the tradition cultural heritage status in order to protect it from further bans.
Spain's largest bullring, Las Ventas regularly sells out its 23,000 seats during the annual San Isidro fiesta.