A man in a zoo in East China has been mauled to death by tigers, while his wife and child watched in horror behind the enclosure gates.
After crossing into an enclosure strip in Ningbo Youngor Zoo, in the country's Zhejiang province, the man began teasing three of the animals as they were being fed.
The group of tigers then mauled the man, biting his head and neck, ripping off his clothes.
At one point, the man was dragged by one of the creatures to the back of the enclosure by his foot, leaving him face-down in the ground.
In a video of the attack, crowds gathered, screaming whilst one of the animals swiped at the man's face with its paw. A shot can be heard but the attempt misses the tiger.
Gruesome video footage captured the man falling in and out of consciousness, unable to get up as he was repeatedly attacked by the animals.
One horrified witness said to the South China Morning Post: "I saw the tiger mauling the person, whose face was covered with blood. Every time he sat up, the tiger pushed him down again."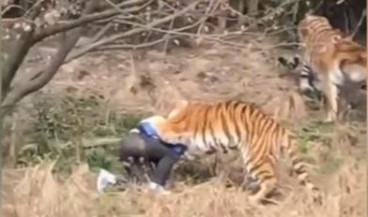 The zoo's staff used fireworks and a water cannon in a bid to drive away the tiger, but could only retrieve the man an hour later.
The man died from his injuries in hospital shortly after.
It is not known why the man crossed the line into the enclosure.
The surveillance footage of the attack is currently being reviewed, reports Xinhua, China's state-controlled news agency.
In July last year, a woman was mauled to death by tigers in a wildlife park in Beijing as she tried to save her daughter from the animals.
Although the daughter survived a series of injuries to her arms and face, her mum died as a result of the attack.